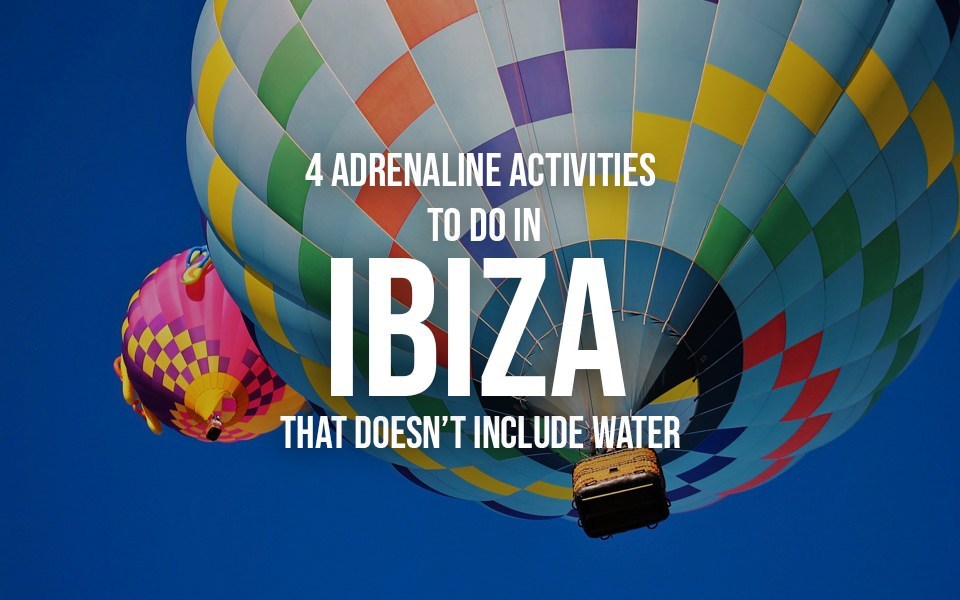 4 Adrenaline activities to do in Ibiza
that doesn't include water
Some time ago I wrote two articles on the adrenaline water activities to do in Ibiza. But what if you don't like water sport but you still want some thrill?
There is so much to do in Ibiza and even those who don't want to spend the whole day at the beach can find something exciting to do.
Here are a few ideas about adrenaline activities to do in Ibiza that doesn't include water.
1) Parasailing
I know, parasailing involves a boat and probably you get wet while doing it, but it is an activity that is more related to air than to water. That's why I added it to this list.
Flying high through the air, watching the island from an uncommon point of view is fantastic!
In Ibiza there are different companies offering parasailing experiences. Each one has its own peculiarities. For example, some of them organize 1-2 hours boat excursions for groups including music and drinks to enjoy the time while waiting for your turn to fly. A photographer will take pictures of you while you're up in the sky and you are given a GoPro to make your own video. Pictures and video aren't for free.
If you can, try parasailing at the sunset. The light and the panorama are unbelievably beautiful.
2) Buggy and Quad Bike
Among the adrenaline activities to do in Ibiza there are the buggy and quad bike excursions.
It's like being on a roller coaster, but you're the driver and you can decide where to go.
Most of the available vehicles are automatic and easy to drive.
An excursion usually last a couple of hours, during which you'll pass through forests, small villages, beach and cliffs. It's a different way to discover the island.
Usually the price of buggy and quad bike excursions includes the gasoline, an insurance and the helmet, a guide and one drink or snack.
3) Hot Air Baloon Flights
Flying on a hot air ballon is a magical experience.
First of all, there isn't any noise. No engine will disturb your experience. Then, the ballon moves slowly, giving you the time to enjoy everything. Intimacy and calmness are the main features of this experience, but the most unforgettable things arre the stunning landscapes and coastline down below.
Usually, a hot air balloon can fit 4 to 6 people, it depends on their weight.
Most of the flights I know take place in the early morning, when the wind is less strong. The launch site may change depending on the wind direction of the day, and the flight last about 1 hour.
I suggest you to find a company that organizes hot air balloon flight at dawn.
4) Slingshot Ride
A slingshot ride lasts only a few minutes, but in my opinion it is the most adrenaline activity to do not only in Ibiza, but almost everywhere!
When you enter the cart you don't know what's going to happen. Yes, you might have seen some videos on YouTube, but they are just videos!
You feel that they're pulling back the cart and suddenly you're flying up to the sky. The acceleration is so strong that some people get panicked or faint!
I consider a slingshot ride one of those activities to try with your loved one. You know, strong experiences strengthen ties.
Which of these 4 adrenaline activities to do in Ibiza are you going to try this summer
Do you want to spend your holiday in Ibiza ?
Discover our accommodations in the Balearic Islands