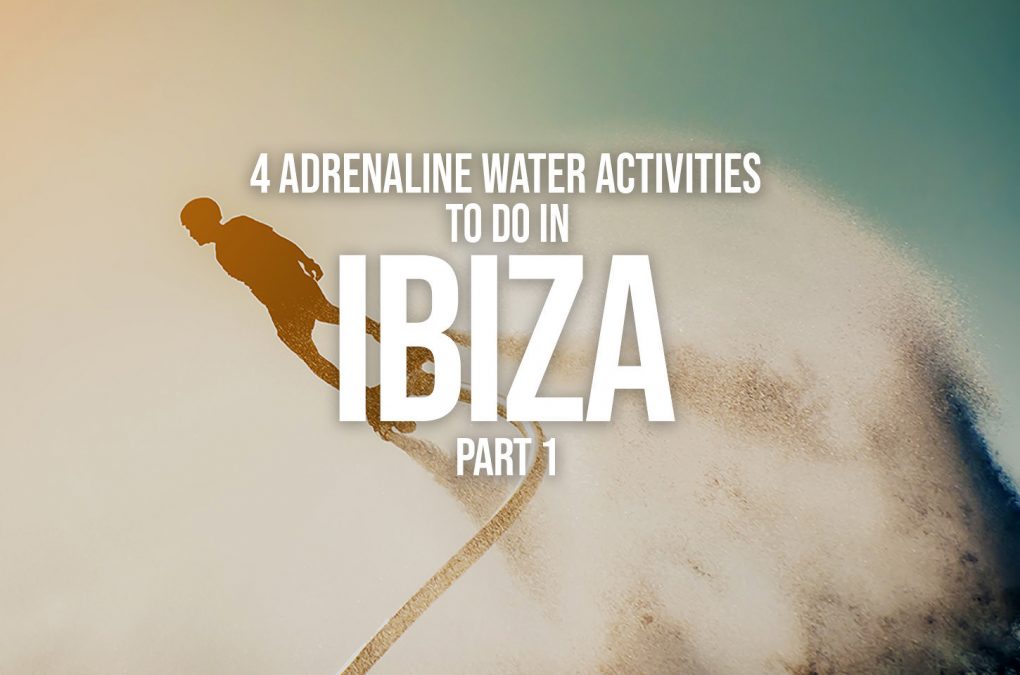 4 Adrenaline Water Activities to do in Ibiza
Not everyone who decide to spend their holidays in Ibiza are looking for a relaxing experience or clubbing. Some of us prefer to live adventures and feel the thrill of something slightly dangerous.
Fortunately, the island is well equipped for any kind of tourist!
For those who love the sea, here are some fun adrenaline water activities to do in Ibiza.
1) Cliff Diving
The most typical adrenaline water activity to do in Ibiza is certainly cliff diving.
The sensation of walking to the edge of a rock, watch the blue sea below and finally jump into it is incomparable.
Taking the leap is not as easy as you can immagine. However, this activity can be done in group and this makes it easier.
Cliff diving is suitable for everyone, even people with disabilities.
The rugged coast of Ibiza is perfect for it. There are spots where jumping is easier and others where it is more difficult.
The jump always takes place in safety, with qualified instructors who supervise the situation.
Obviously, if you change your mind and don't want to jump, you don't have to!
Cliff diving is beautiful because it allows you to discover magical places on the island.
It is often possible to combine cliff diving with snorkeling, stand up paddle and picnic. It depends on the organizer.
2)  Flyboarding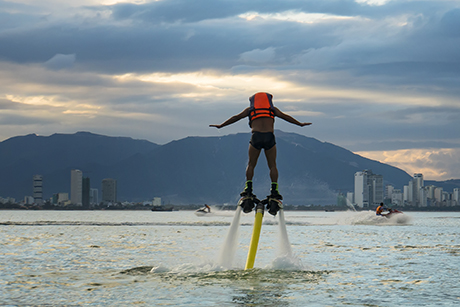 If one of your dream is to fly, well, fly boarding is your adrenaline water activity to do in Ibiza.
You can choose among different companies that organize this kind of experience and usually the price includes a minimum insurance.
You don't need any experience, and a qualified instructor will teach you how to safely use the board. The basics are easy to master in a short time.
If you are already an expert you will surely find an instructor that will teach you some tricks and acrobatics.
A ride usually lasts 20 minutes. You are strapped to the board which is connected to the boat by a flexible water hose that creates a jet of water so powerful to lift you up into the sky.
Fly boarding is real fun and it is good to practice it by yourself or with friends. Lots of laughters are guaranteed.
3) Jet Skiing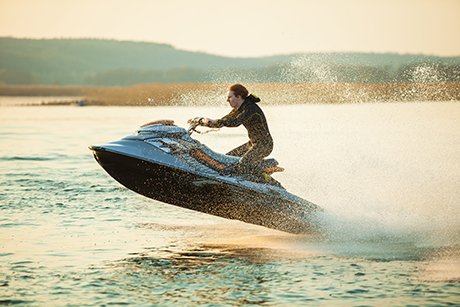 Jet skiing is one of the most classical adrenaline water activities to do in Ibiza.
Shuffling on crystal-clear water, making evolutions in safety and observing the indented coastline from the sea will give you unforgettable memories.
There are many companies offering this type of activity. An instructor will explain you how the scooter works and the rules you have to followed to enjoy this experience in safety.
Usually, the controls of the jet ski are simple so it doesn't take you much to learn how to drive.
Everyone can try jet skiing and you can enjoy it by yourself or with friends.
4) Jet Boating
If you love speed, but aren't interested in driving a water mean of transportation, I think you will appreciate jet boating.
All you have to do is sit down on a high speed boat that will literally fly over the wonderful sea of Ibiza, getting close to the rocks that form the rugged coastline of the island, spinning around and jumping.
Jet boating is terrifying, but in a good way!
It's definitely a group activity and it's not uncommon that perfect strangers that shared this experience became friends…at least for the time of the holiday!
Even if it may look quite dangerous, jet boating is suitable for people of all ages and levels of fitness.
Which water adrenaline activity to do in Ibiza is your favorite? Are you gonna try one of these this year?
Do you want to spend your holiday in Ibiza ?
Discover our accommodations in the Balearic Islands