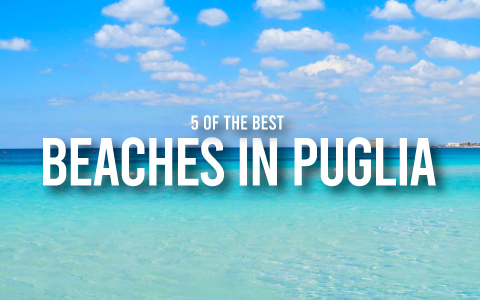 Let's discover 5 of the best beaches in Puglia, Italy
Are you looking for the best beaches in Puglia? You are in the right place!
Puglia is an Italian region that has a lot to offer visitors: a thriving countryside, historic cities, castles and masserias, and an exceptional culinary tradition. However, a holiday in Puglia means, above all, spending a lot of time on the beach.
With 940 km of coastal line there are plenty of choices!
So, let's find out 5 of the best beaches in Puglia in our opinion.
OUR 5 BEST BEACHES IN PUGLIA
Punta Prosciutto
Punta Prosciutto is part of a marine protected area between Lecce and Taranto, in Salento, the southernmost part of Puglia. Here you find clear sea water, long beaches of fine white sand, high dunes and typical vegetation. Not far away is Salina dei Monaci, where you can see the pink flamingos.
The sea bottom of Punta Prosciutto is shallow and therefore ideal for spending pleasant moments with your children.
Most of Punta Prosciutto consists of free beaches, but there is no shortage of bathing establishments.
The Maldives of Salento
A stone's throw from Santa Maria di Leuca is Pescoluse, a coastal area know as Maldives of Salento. The name derives from a renowned bathing establishment but also from the characteristics of this place. In fact, Pescoluse's beach recalls tropical atmospheres. Here you will find miles of white sand, crystal clear waters, shallow seabed, dunes covered with local shrubs, reeds and palm trees.
Baia dei Turchi
Baia dei Turchi, near Otranto, is one of the best beaches in Puglia. The name, Turkish Bay, derives from the fact that, during the Ottoman invasion in 1480, some Turkish ships were wrecked here.
The particularity of this place are the surrounding high cliffs which make it very popular with free climbers.
The seabed is rich in fish and the water is crystal clear, perfect for snorkeling. From Baia dei Turchi you can also admire the Isola dei Conigli, Rabbits Island, just off the coast.
This beach is perfect for families with small children as the bottom slopes gently. There are both free and equipped areas.
If you are looking for a place to relax and enjoy the sea, Baia dei Turchi is the right beach for you.
Punta Pizzo
On the Ionian coast, near Gallipoli, within the Isola Sant'Andrea nature reserve, there is a coastal area that alternates sandy coves and tuff cliffs. The beaches here are wild and the sea water has out-of-the-ordinary clarity and colors.
The small bay of Punta Pizzo is a place away from the chaos where you can enjoy nature and a postcard view.
Baia di Torre dell'Orso
On the Adriatic coast, a few kilometers from the town of Melendugno, there is a small bay enclosed by two cliffs and surrounded by a dense pine forest. Here you find dunes of fine sand and so white that it looks like silver. The water, as well as for other beaches in Puglia, is enchanting.
The name of this beach derives from a 16th century watchtower, still visible today.
The presence of Due Sorelle, Two Sisters, two stacks that emerge from the sea, makes Baia di Torre dell'Orso particularly beautiful. A legend tells that, once upon a time, two women fascinated by the beauty of this stretch of coast, dived into the sea and drowned. However, the gods decided to turn them into the stacks, to make them stay forever in that place they loved so much.
Furthermore, in the surroundings there are some caves where you can see ancient writings in Greek and Latin.
Of course, these are only some of the countless wonderful beaches in Puglia. It's up to you to discover them all.
Are you planning to visit some of these beaches?
Discover our accommodations in Puglia