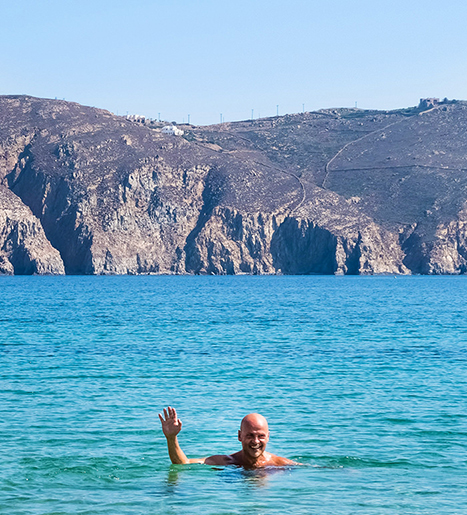 Agios Sostis beach Mykonos
As passionate traveler I wish to share with you my personal experience in the wonderful Island of Mykonos, in the Aegean Sea.
If you think about Mykonos, you will probably think about an island of "lost people" who just want to exceed and so on, but this is basically a legend or if not a legend it is just one of the characteristics of this island.
I'm a frequent visitor of Mykonos, both for job and for leisure, first as a "single" together with my friends, few years ago, and undoubtedly, I found what I was looking for: fun, adventures and every kind of emotions.
But since then, I've been lucky enough to admire and discover other features of this island, such as its wonderful, transparent and very cool sea.
More recently I've been there with my wife and two wonderful sons, in order to enjoy the splendid sea, as despite the clichés, Mykonos is still an uncontaminated place where you can find an intact nature.
I suggest in particular, a visit to the "Agios Sostis" beach. This is, in my opinion, one of the most beautiful beach on the Island (if not the best), especially if you look for tranquility, with a crystal clear sea, where to dive and swim. This beach is uncrowded, perfect for relaxing.
The road to reach this beach is nice too, even if you have to walk a little bit to reach it (but believe me it's worth!) and I also wish to mention the Church situated at the top of this beach, from which you can take great photos and enjoy a fantastic view.
There is also a nice tavern not too far from the beach and if you love underwater snorkeling that is the right place.
Finally I would say that this beach is characterized by magnificent views and the peace that reigns watching the water always blue, isolated from the noise of Mykonos…
Do not miss it!
Do you want to spend your holiday in Mykonos ?
Discover our accommodations in Mykonos and other Greek islands