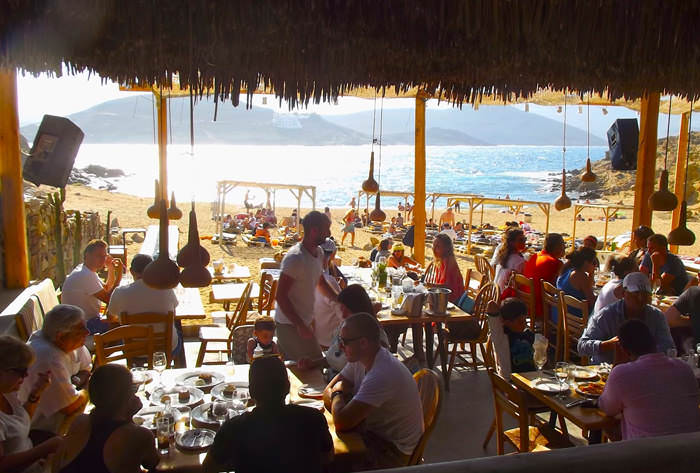 Alemagou Beach Bar Restaurant in Ftelia – Mykonos
Since opening a few years ago, Alemagou Beach Bar Restaurant has become one of the coolest destinations in Mykonos.
Set right on a small beach, just around the bay from Ftelia Beach itself, Alemagou has a bohemian, laidback atmosphere that makes this more than just a bar or just a restaurant or just a club, but a cool combination of all three.
I personally love Alemagou Beach Bar, so let me tell you why. Yes, the setting is pretty amazing, set right on the sand of a beautiful yet small beach.
It's a little off the beaten track; one of those places that you will actually need to look for if you're in the Ftelia Beach area as you'll find it down an unmade road, though luckily there is a sign saying "Alemagou" at the beginning of the road.
The fact that you can hang out here, either in the bar or on the beach all day, is one of the reasons why I love it.
Bring your swimming gear, sunbathe on the sand or a sunbed, sip on some chilled drinks or cocktails, and when you're hungry, order some food.
he restaurant serves delicious traditional Greek food, cooked using fresh and local ingredients. Their recipes are authentic, whether you choose Greek salad, moussaka, seafood or anything else.
And then there's the music. I think of Alemagou as a club because they frequently have DJs here, playing some great music, but it's more a fusion of bar, restaurant and club. There's a relaxed atmosphere and maybe a slightly older crowd than you'll find in the usual clubs in Mykonos Town, so this really is more a place to come and unwind than rave the night away.
When there's no DJ playing, you'll be relaxing in the sun, listening to the sounds of chill-out music gently making its way from the bar. It's a place of pure relaxation!
Do you want to spend your holiday in Mykonos ?
Discover our accommodations in Mykonos and other Greek islands