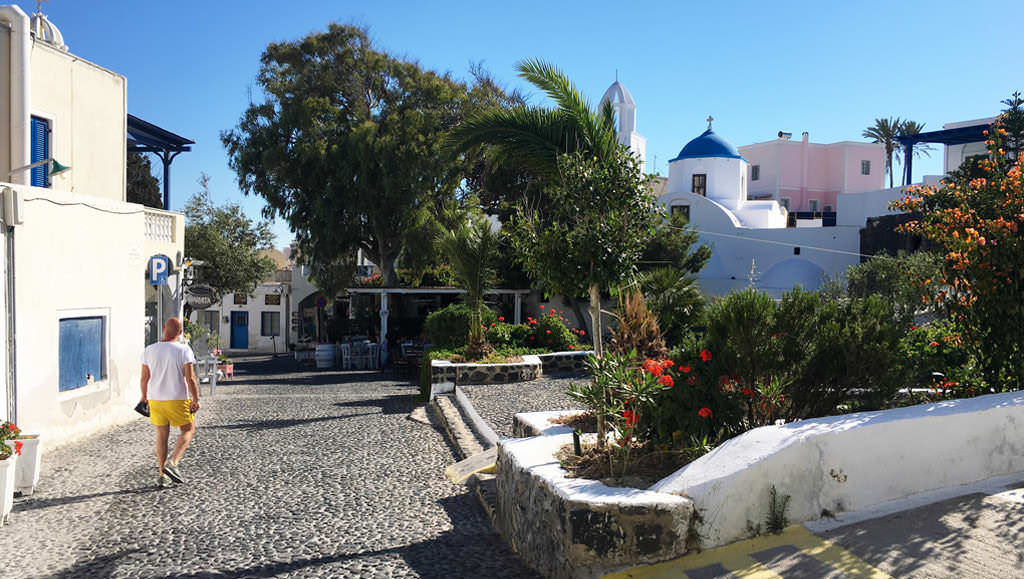 The authentic Santorini, part 1: Pyrgos and Megalochori
I love Santorini! The breathtaking caldera, the wonderful beaches and sunsets and the nightlife made this island one of the most popular destinations in the Mediterranean Sea.
But Santorini is not only honeymoons, jet set and mass tourism.
Away from the renowned spots there are villages that are worth visiting. I have been to Pyrgos and Megalochori and found them absolutely lovely. It was like getting out of time and suddenly Santorini appeared different to me.
Pyrgos is a small village situated some kilometers away from Fira. It is located on the top of a hill and the panoramic view of the entire Santorini and its caldera is stunning.
In the past it was the capitol of the island and now it is popular because of its typical greek appearance.
In facts, its charm comes from the traditional houses, the blue domed churches, the labyrinth of  narrow streets, the tavernas and the ancient Venetian castle, all well conserved.
Although Pyrgos is undoubtedly a tourist destination, it isn't crowded at all and you won't find that mass tourism that characterizes other spots in Santorini. Actually, the atmosphere is really quiet and it is a very nice experience to get lost in this village and discover all the hidden workshops of local artists.
Megalochori resembles Pygros in many ways: no mass tourism, narrow streets and steep staircases, traditional white houses, churches and a breathtaking view of the island from the top of the hill on which it is located.
The most peculiar things to see in Megalochori are basically two: the eccentric arch bell tower under which you can walk and the traditional cave house available for visits.
But what makes Megalochori truly unique to me is that it is considered the capitol of wine production in Santorini. It is surrounded by vineyards and some of the biggest wineries of the island are located there. As a result, Megalochori is perfect to transform a cultural excursion into an opportunity to taste great wines.
Far from the crowded places, Pyrgos and Megalochori gave me the chance to discover the true greek essence of Santorini. From the scenographic glimpses to the tempting smells of food and nature, everything was so intense but I felt really relaxed and It was great.
I strongly suggest you to visit those villages and feel the same way too.
Do you want to spend your holiday in Santorini ?
Discover our accommodations in Santorini and other Greek islands