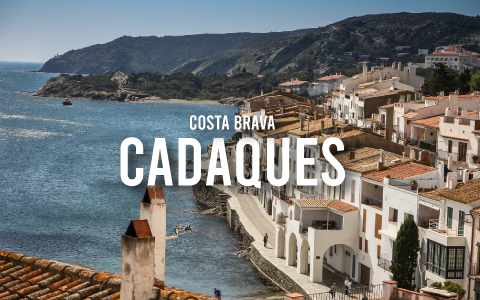 The Enchanting Charms of Cadaqués, Costa Brava
Along the rugged coast of Costa Brava in Catalonia, Spain, lies a hidden gem that has captivated the hearts of travelers and artists alike for centuries. It is Cadaqués.
This picturesque fishing village exudes a unique charm, with its whitewashed houses, narrow cobblestone streets, and breathtaking coastal views.
It boasts a fascinating history that dates back to ancient times. It was originally settled by the Greeks and later became a Roman colony. Over the centuries, it thrived as a fishing village and trading port, shaping its distinct character and cultural identity.
Today, together with Girona and beach towns like Lloret de Mar e Tossa de Mar, it is one of the main attractions in Costa Brava.
What Makes Cadaqués so popular
Preserved Authenticity
Unlike some other tourist destinations, Cadaqués has managed to preserve its authenticity and traditional charm. Strict building regulations have protected the village from excessive development, maintaining its original whitewashed houses, narrow streets, and old-world atmosphere.
Moreover, it has managed to maintain a certain level of seclusion due to its location on the eastern edge of the Costa Brava. So, it may not be as crowded as other coastal destinations. The authenticity and the exclusivity appeals to travelers seeking an immersive cultural experience.
The Artistic Haven of Salvador Dalí
One cannot speak of Cadaqués without mentioning its close ties to the legendary artist Salvador Dalí. The town and its surroundings served as a significant source of inspiration for Dalí throughout his life. In fact, he once claimed that Cadaqués was "the most beautiful village in the world."
Dalí's former residence in Portlligat, just a short distance from Cadaqués, has been converted into the Dalí House-Museum. Visitors can step into the surreal world of the artist, exploring the rooms filled with eccentric decor and admiring the stunning views that ignited his creativity.
Calm Beaches and Crystal-Clear Waters
Cadaqués is blessed with some of the most exquisite beaches on the Costa Brava. The beaches show unspoiled beauty, making them ideal spots to relax and unwind.
Playa Gran, the main beach, offers a tranquil atmosphere with its golden sands and calm waters, perfect for swimming and sunbathing.
For a more secluded experience, venture to Cala de Portlligat, located near Dalí's residence. This picturesque cove boasts crystal-clear waters, making it a paradise for snorkelers and swimmers seeking a peaceful escape.
Scenic Surroundings and Nature Trails
Beyond the village lies an enchanting landscape waiting to be explored. The Cap de Creus Natural Park offers an array of hiking trails that lead to viewpoints and coves. The rugged cliffs and unique rock formations provide an otherworldly ambiance, transporting you into a realm of natural wonders.
One of the most popular trails is the Camí de Ronda, a coastal path that meanders along the shoreline, providing awe-inspiring panoramas of the Mediterranean Sea. This scenic walk is not only a feast for the eyes but also an opportunity to immerse oneself in the tranquility of nature.
Gastronomic Delights
Cadaqués delights in an abundance of fresh seafood. Numerous waterfront restaurants offer a delectable array of seafood dishes, from traditional Catalan paella to succulent grilled fish. Savoring these culinary delights while overlooking the shimmering waters of the Mediterranean is an experience that lingers long after the meal has ended.
Festivals and Traditions
Cadaqués comes alive with vibrant festivals and cultural traditions throughout the year. Among the most notable celebrations is the "Festa Major". This colorful fiesta takes place in August, involving music, fireworks, and traditional processions. Immerse yourself in the local culture during these festive occasions, and you'll get a deeper appreciation for the heart and soul of this charming village.
Are you planning to visit Cadaqués?
Discover our accommodations in Costa Brava