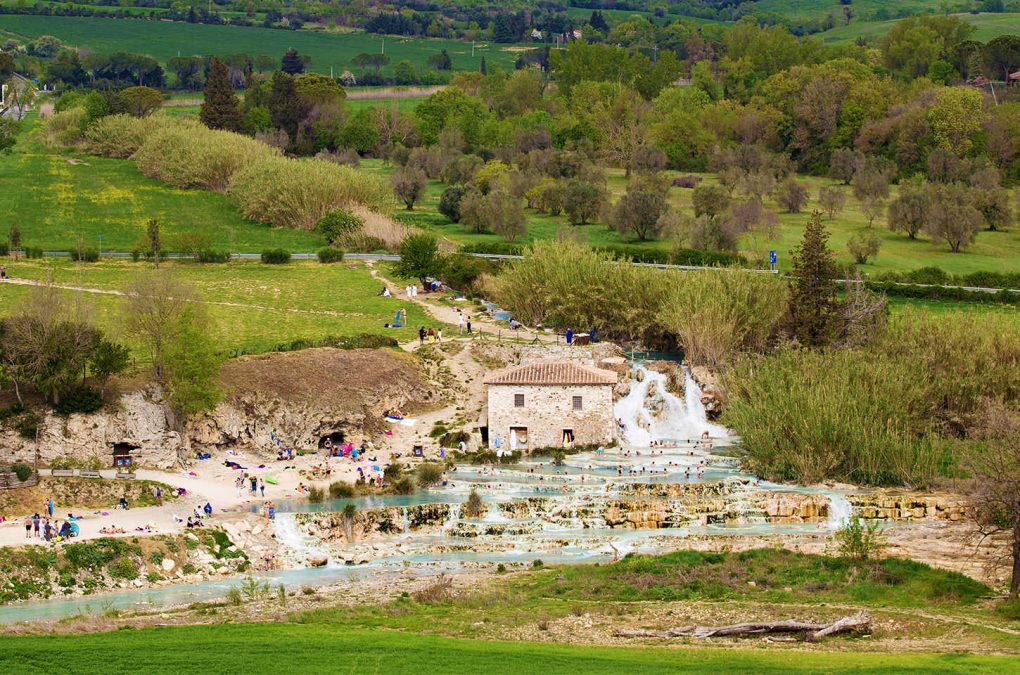 Cascate del Mulino Saturnia
One of the most unforgettable experiences I had in Tuscany was the visit to the spas called Cascate del Mulino, or Le Cascatelle, near Saturnia.
It's a really fascinating place. From afar (there is a belvedere with great view) they look like a painting.
This thermal spring is called Cascatelle or Cascate because the water has formed a waterfall that opens in many other smaller waterfalls that have carved the rock, forming natural pools on different levels.
These pools are full of sulfurous water that comes out directly from the underground at a constant temperature of 37° C.
Being soaked in it is good for the body, thanks to the beneficial properties, but also for the spirit.The waterfalls are surrounded by the beautiful nature of Tuscany.
The green of the vegetation is mixed with the turquoise of the water and the white of the calcareous rock.
An old building at the top of the falls stands still, as a reminder of a past time. Further away, beyond the trees, the delicate hills of Maremma disappear from view, hidden by curtains of steam.
Everything is terribly relaxing!
I've been to the Cascate del Mulino at night.
I remember that reach them was an adventure, since the path was scarcely lit. Yes, I must confess I was a little bit scared of walking in the dark, surrounded by the vegetation. But I think this was part of the experience too!
Actually I was lucky because that night the sky was clear and an amazing full moon brightened the surroundings.
When I finally reached the falls I was enchanted. Every detail contributed to create an intimate and magical atmosphere that still thrills me a bit nowadays.
The reflections of the moonlight on the water, the sounds of the waterfalls, the warmth of the water on the body, pleasant despite it was summer,…
That's why the Cascate del Mulino are among the most beautiful natural spas in Tuscany and also Italy.
The best thing is that they are open every day, both day and night, and are completely free.
This makes them an unmissable destination for your holiday in Maremma, but it also means that they could be a little crowded.
Weekends, especially in spring and autumn, are particularly packed. Nothing unbearable, according to me, but if you are looking for a very relaxing experience, choose other moments.
And finally, when you'll be tired of soaking in the hot water, remember that a few kilometers away is Montemerano, one of the most beautiful hamlets in Italy.
Do you want to spend your holiday in italy ?
Discover our accommodations in Tuscany