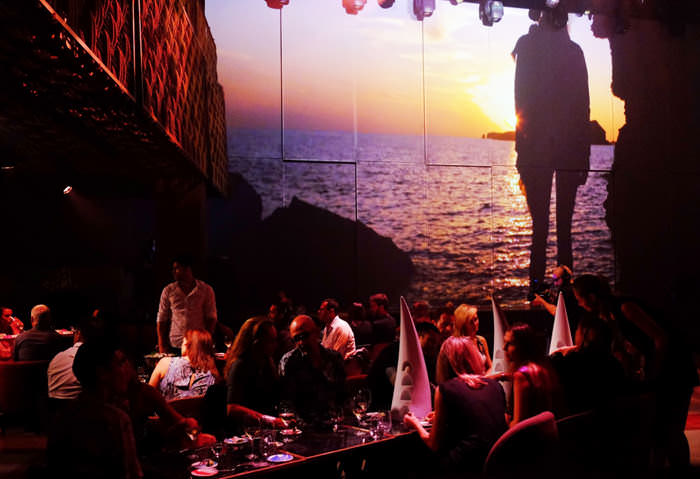 Cirque du Soleil and molecular cuisine at Heart, Ibiza.
The mix of good food and entertainment is a massive trend in Ibiza. Restaurants are becoming more and more places where people can live multisensory experiences and I personally like this trend very much.
In particular there is a restaurant in which I always feel like Alice in Wonderland. It's Heart.
In its official Facebook page Heart is defined as a 'perfect combination of leisure, culture and health. An ideal amusement park for adults" and it's true.
I wrote a previous blog article about Heart more or less 2 years ago, but for those who didn't read it I'm going to make a recap about the main features that make this restaurant unrivaled in Ibiza.
First of all, Heart is a creation of Guy Laliberté, managing director of the Cirque du Soleil, and the Adrià brothers, Albert and Ferran, who is the inventor of the molecular gastronomy (and had 3 Michelin stars). So, as you can immagine, creativity is abundant both on the tables and on the stage.
The quality of food has always been excellent, of course, but during these last years they have taken it a step forward, as I had the chance to taste during my last dinner at Heart last summer.
For me, a dinner at Heart is not simply 'eating good food', it's more a discover of the potential of my senses. Every dish is a small world in which colors, smells and flavors give you a wide range of sensations. And these sensation are empowered by the context.
Cirque du Soleil is a guarantee of high level entertainment. The performances are innovative, classy and truly amazing. Actors, artists and musicians are all around but they are not invasive, they are just the magic background to your dinner.
Heart is a first class restaurant, not for nothing is it located in the same building of the casinò, part of the Grand Hotel Ibiza, one of the most luxurious hotels in the world.
Actually the restaurant has 3 different spaces: a terrace, dedicated to street foods, the restaurant in which you can enjoy the dinner and the shows, and the club, in which every night super djs or bands play trendy music. Moreover the club is quite small and it is perfect if you want to spend a night at the disco avoiding those big clubs of Ibiza crowded with thousands of people.
As Albert Adrià once said, to spend a night at Heart is to take part to a 'gastrofiesta', an exclusive multisensory celebration. So, if you haven't already been there, it's time to reserve your table and enjoy the experience.
Do you want to spend your holiday in Ibiza ?
Discover our accommodations in the Balearic Islands