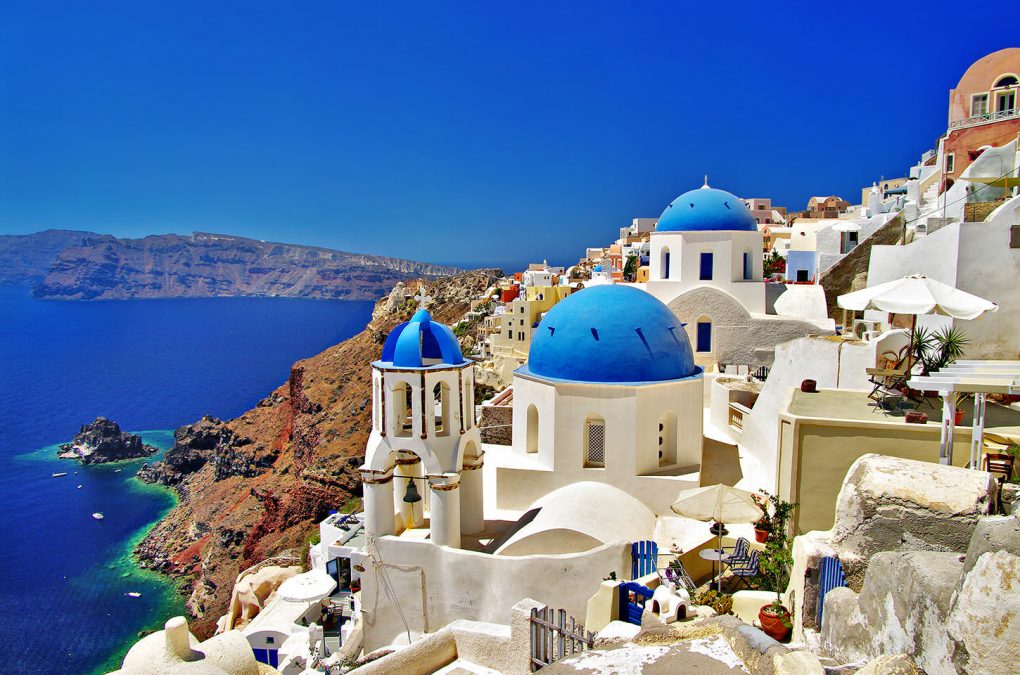 Let's discover the Colored Beaches of Santorini
Colored Beaches of Santorini
You probably already know that Santorini is one of the most exclusive tourist destination in the Mediterranean Sea.
It combines a wonderful nature and high level facilities.
But, as an island, Santorini has a long coastline with fantastic colored beaches.
Moreover, it is a volcanic island, it means that the past eruptions have shaped it in an unique way and created beaches that you can't find anywhere else.
The beaches in Santorini are different one to another. Some of them are wild and secluded, others are well organized. Some are perfect for families, others are perfect for party animals.
One thing I suggest people who are going to Santorini for the first time is to visit a different beach every day. But how can you choose which one to go to, when they are all beautiful? My idea is to follow the colors!
Santorini has some unparalleled colored beaches! Each of them has its own features and atmosphere that you won't forget.
Let's discover them!
The Red Beach
This is the most famous beach in Santorini and its popularity is due to its unique scenery.
It is hidden behind a high red cliff and you have to experience some climbing to reach the waterfront.
Once you are there, the intense blue color of the sea makes an impressive contrast with the red lava stones, pebbles and sand all around.
The water is very clear and it is perfect for snorkeling.
The Red Beach of Santorini is very narrow and get crowded very easily, but there are some facilities that can make your day more enjoyable, such as cafes, sunbeds and umbrella, and a parking space.
It is located near the archaeological site of Akrotiri.
I red that the Red Beach has been closed to the public due to landslides and rock falls. I'm going to find out if it's still closed this summer.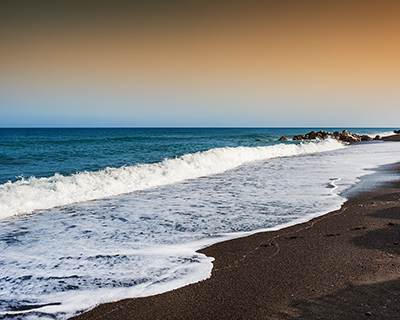 The Black Beach
The Black Beach is actually made of 2 different beaches, Perissa and Perivolos.
Their dark sand is the prove of the volcanic origin of Santorini and it can become very hot under the greek sun! So, be careful not to burn your feet.
Perivolos is the beach at which you can spend a fantastic day. I think it's the most organized beach in Santorini: there are sunbeds, couches, bars and you can play different sports, from beach volley to jet-ski. Yo can also listen to some of the best djs or sip a tasty cocktail.
The black beach is perfect for enjoying a party atmosphere or meet some VIPs.
It is one of the most loved beaches also by locals and, in particular, by young people.
It is located at about 15km from Fira.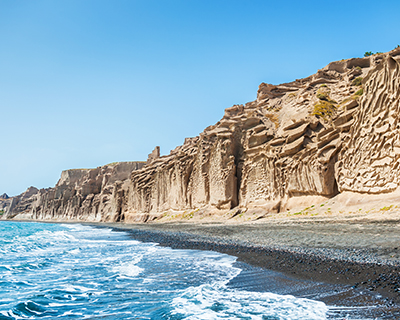 The White Beach
The White Beach is very similar to the Red Beach and close to it. But it is less popular and quieter.
It is secluded and hasn't many facilities, so it is the right place for those who are looking for the wild side of Santorini.
Its cliff is made of unique rock formations, and the white pumice creates an almost alien landscape. It's perfect for taking amazing photos! Moreover, there is the chimney of an old factory that makes this beach even more particular.
Another Black Beach
Kamari Beach has dark sand too.
Like Perivolos, Kamari is well organized and offers you the chance to enjoy a relaxing or fun day at the seaside.
The cliffs surrounding part of this long beach are majestic and all the restaurants, tavernas and cafes make the day even more enjoyable.
Kamari is one of the most famous beaches of Santorini and it is also easily accessible. It very closed to the airport and pretty touristic.
Ammoudi Port
Ammoudi is not a beach and there are no sand, sunbeds or umbrellas.
I'm including it in this article about the colored beaches of Santorini because of its water.
I think it is one of the most crystal-clear water I've ever seen.
Light blue, dark blue and shades of green are mixed with the color of the volcanic rocks all around. And the port is very picturesque!
Ammudi is a fantastic place for diving, swimming, snorkeling, but also for enjoying a nice meal in a typical taverna just in from of the sea.
You can reach it by car from Oia, on foot by descending more than 200 steps or with donkey.
Santorini is such a lovely island! There are so many beautiful spots to see and it has plenty of gorgeous background for great memories.
I hope to go back there soon and discover other wonders to tell you in my next blog posts.
Do you want to spend your holiday in Santorini ?
Discover our accommodations in Santorini and other Greek islands