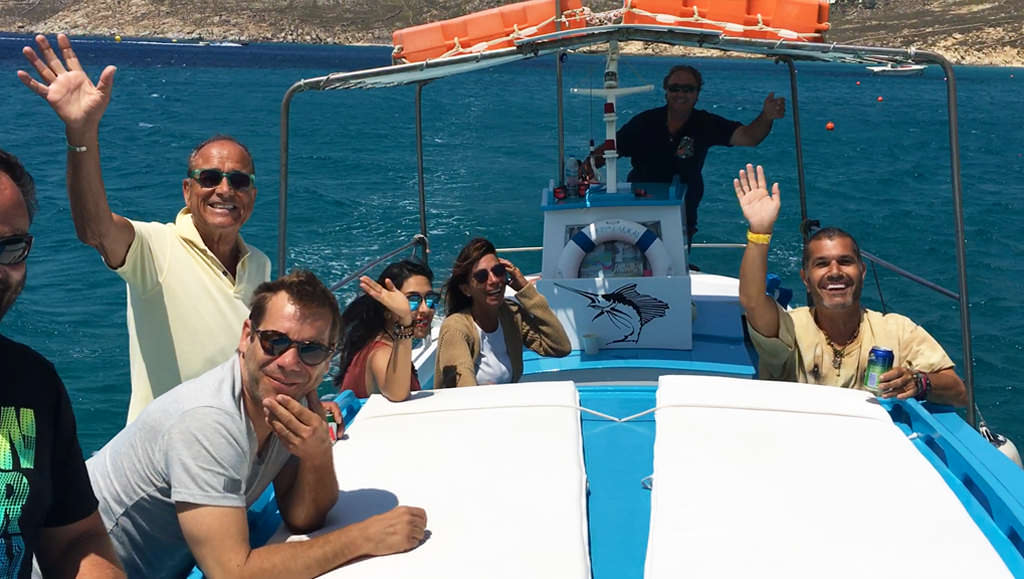 Day trip on a Fishing Boat in Mykonos
What's better than a boat trip to discover the beauty and nature of Mykonos? My answer is 'nothing'.
I truly believe that it is always the best choice to observe the territory of an island, its coast and beaches from the sea. The unusual view, the silence and the feeling to be part of the surrounding nature are incomparable.
Sailing means freedom and adventure and for me it is always an intense experience. I love it, especially if I have the chance to enjoy wonderful places with my Best Friends.
One day a friend of mine who lives in Mykonos, Mr. Adonis, suggested me to have a boat trip along part of the coast of the island. He wasn't talking about one of those standard touristic tours that takes you and a multitude of other people to the same old well-known places. No no, he suggested me a more authentic trip.
So, I followed his suggestion and rented a typical fishing boat, with a captain and a helper (actually the captain's wife) who took me around the beautiful sea of Mykonos. The crystal clear water, the dazzling sun, the profile of Mykonos and its beaches in the distance were a stunning panorama.
And then, when I was already satisfied of spending my time at such a beautiful place with such nice people, the capitan made us land on a lovely beach reachable only by boat. It was a hidden treasure!
In a moment, the captain and his wife set up a lunch table and a bbq. He roasted prawns and gilt-head breams while chatting, and she prepared some fresh and tasty salads. We had a great lunch! The location, the food, the company…everything was perfect!
What a wonderful experience I had that day! I easily can say that it is on my top ten of the most unforgettable moments I had in Mykonos.
Far away from crowded beaches and jet setter's clubs, this trip on an authentic fisherman's boat was just what I needed to reconnect with the real spirit of Mykonos. Yes, it is a gorgeous place to spend  a holidays and have a lot of fun, but it is, first of all, one of the most wonderful island of the Aegean Sea.
I can't help to suggest you to have this boat trip and collect the same good memories.
Do you want to spend your holiday in Mykonos ?
Discover our accommodations in Mykonos and other Greek islands