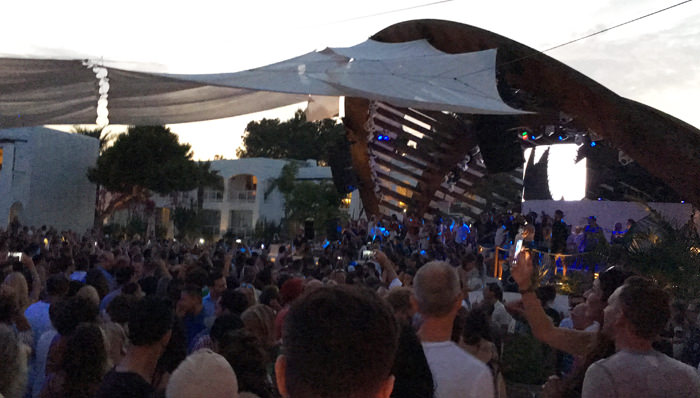 Good Sushi and Great Parties – Destino Pacha Resort – Ibiza
When it's time eat sushi I'm quite hard to please. There are just a few restaurants where I can find good sushi and my favorite one is located at about ten minutes by car from Marina di Botafoch and Ibiza Town. It's the restaurant Modest part  of Destino Resort, in Cap Marinet.
Top hotel of the Pacha group, Destino is certainly a special place that mixes good food and entertainment.
I'm sure that you have already guessed that the influence of the Japanese culinary tradition is strong, but it's not limited to sushi and sashimi. At Destino you can also enjoy dishes cooked on the robata, a particular Japanese charcoal grill with different levels that allow different cookings. Another interesting thing about this restaurant is that they offer private catering and also a "Luxury " take away option with a menu card that you can preview on the official website. And if you or your mates do not like raw fish, don't panic! The menu card of Destino includes a good range of international dishes and the quality is really high, whatever you choose to eat.
The wine list is remarkable too.
The only moment when the menu card is limited is during their unforgettable  parties.
If you have already been to Ibiza you know that these three words are enough to ensure a lot of fun! Especially the last one. It's common in fact to see the top djs of the Pacha team, such as Solomun or Guy Gerber, playing music during the crowded parties at Destino.
Usually they plan at least a couple of events a week, from 4pm to 12 pm. Someone might think that midnight is too early to stop the fun but in Ibiza outdoor clubs must stop playing music at 12 pm. The parties at Destino take place in the garden, between the bouganvillea plants and the pool, with a beautiful view of the Mediterranean Sea, the citadel of Dalt Vila and the island of Formentera.
In my opinion Destino is the best choice if you want to spend a nice evening in just one single club that offers both good food and good music.
It could be the starting point of your super night in Ibiza or the perfect ending of a wonderful day at the beach.
If you are planning a holiday in Ibiza and you are looking for an exclusive accommodation, please take a look at our offers in this website.
Do you want to spend your holiday in Ibiza ?
Discover our accommodations in the Balearic Islands