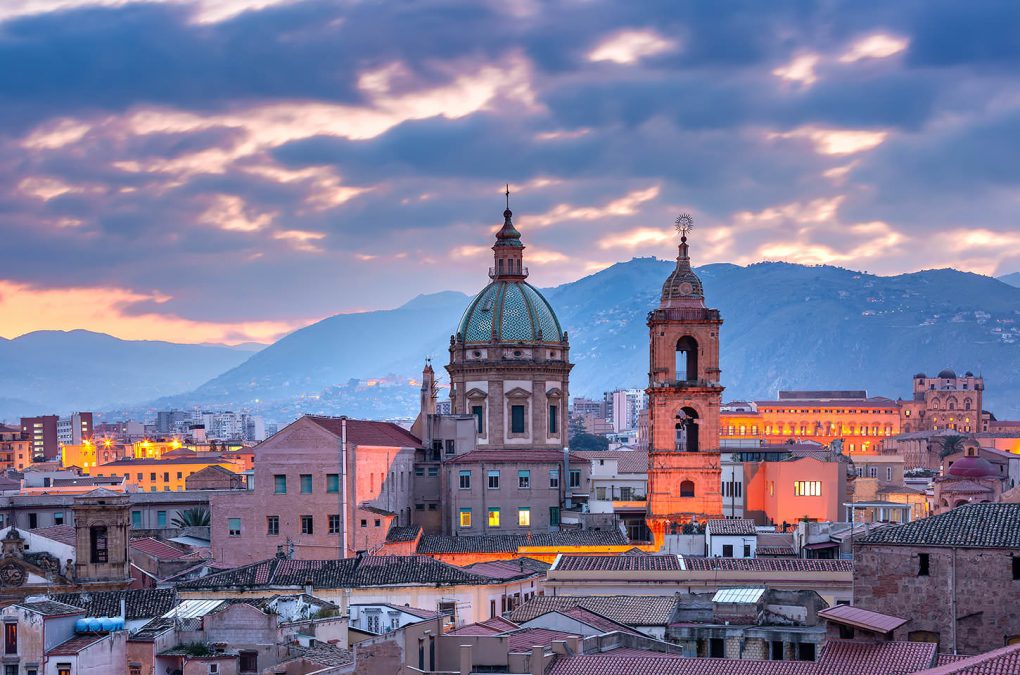 Easter in Sicily:
Where to go and what to do
If you are going to spend your Easter in Sicily, you are probably looking for some advices about where to go and what to do.
As in other Italian regions, in Sicily it is possible to participate in many religious processions and events that depict the Las Supper or the Passion of Christ. These events are held in almost every town. Each of them has its own peculiarities, however they usually follow a standard schedule.
I'm more interested about telling you something on 3 events that are, in my opinion, very unique since they mix religious and pagan traditions.
Easter in Terrasini: La festa di li Schietti
In Terrasini, a town near Palermo, people celebrate Easter in a special way.
They organize la Festa delli Schietti, dedicated to all the bachelors in town. In fact, 'schietti' is a local word that refer to those men who aren't married.
During the celebration the bachelors compete for the attention of unmarried women. To be noticed they try to hold up a tree with one arm as long as they can! I'm not joking, they hold up a real orange o grapefruit tree.
The tree is felled and decorated on the previous day and usually weights around 50, 55 kilos.
The man who holds the tree for the longest time wins the contest.
Some people say that this tradition dates back to the 19th century, others to the Saracen domination.
It has nothing to do with religion, it's more a tradition for celebrating the rebirth of nature after winter. After all, Easter in Sicily is a moment of the year in which spring has completely blossom!
Terrassini is a lovely place to spend the Easter Monday.
The town face a crystal clear sea and is protected by hills. The coast is irregular and offers a wide variety of landscapes. One of the most popular attractions are the sea stacks at Praiola beach.
If you have enough time, take a trip to the natural reserve of Capo Rama. There's a a massive 15th century lookout tower from which you can enjoy a beautiful view of the Gulf of Castellammare.
Easter in Prizzi: The Devils' Dance
More or less at half way between Palermo and Trapani is Prizzi.
If you are going to spend Easter in Sicily this little town is worth a visit.
It is surrounded by mountain and hills, connected to other villages by wild twisting roads, quite isolated. And that's part of his charm! Everything in Prizzi is quiet and relaxed. While walking through the streets you won't probably see many cars or even people. Unless it's Easter.
For Easter people of Prizzi organize one of the most popular celebrations in Sicily, called il ballo dei Diavoli, the Devils'Dance.
A man dressed up in a yellow costume with long tusks represents the Death and is followed by two men dressed up in red costumes with long tongues representing the devils. The three figures dance through the town bothering whoever they meet until they are offered money or food. However, they are on a mission. They want to prevent the meeting between two procession, one carrying the statue of Virgin Mary, the other carrying the statue of Jesus Christ. To do so, they have to follow a complex ritual in which the dance is fundamental and other figures dressed up as angels are involved.
Prizzi can be a nice destination also for a day trip during Easter Monday.
You can visit the ruins of an ancient Castle and its recently restored tower. If you love nature, just outside the town is the artificial lake of Prizzi where you can take great photos.
Easter in Adrano: La Diavolata
Apparently, Easter in Sicily is connected to the figure of the Devil.
In the town of Adrano, near Catania, is held an event similar to that of Prizzi, called La Diavolata.
This celebration dates back to the Middle Ages and is similar to a theatrical show.
A stage is built in the main town square. Five men dressed up as red devils come out of a trap door on the stage. Their exit is underlined with flames and smoke and is followed by the appearance of other figures: Lucifer, the Death dressed as a skeleton, and an angel performed by a child.
During the show the figures discuss about the Good and the Evil, until the Angel forces the devils to pronounce the phrase "Viva Maria" in honor to the Holy Virgin.
Adrano is close to Mount Etna and its main attractions are the Castle and the Saracen Bridge.
The Castle dates back to the 11th century but is perfectly preserved. It is easy to reach since it is right in the main town square where the Easter Show is held. Since 1958 is an Archaeological Museum.
The Saracen Bridge, Ponte dei Saraceni, is outside Adrano, about 4 kilometers from the town.
It's a stone bridge which origins are really ancient, probably it was already there at the time of the Romans. This bridge is particularly enchanting thanks to the surroundings, with volcanic rocks, lawns and a small creek that flows under it.
As you can see, Easter in Sicily is more than just religious processions.
Do you want to spend your holiday in Italy ?
Discover our accommodations in Sicily