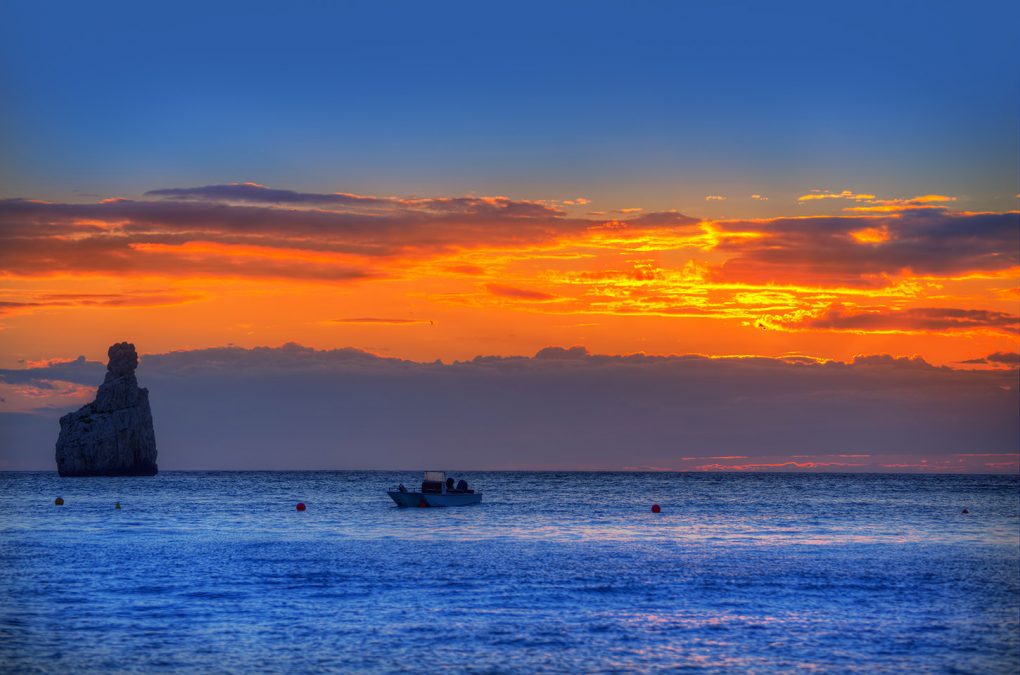 The good vibes of the sunset at Cala Benirras
I've been different time to the beach of Cala Benirras, in the north of Ibiza, and every time I find it gorgeous, both for the picturesque view and for the unique experience it offers.
Although it is one of the most talked beach of Ibiza, Benirras still looks untouched: rocky sides, pebbly sand and an unbelievable crystal clear water, perfect for snorkelling!
But the main reason I suggest you to spend a day in Benirras is sunset.
When I find myself watching the burning sun going down behind the huge rock of Cap Bernat (called "the finger of God" by locals) that stands in the middle of the sparkling sea, I can't help feeling amazed. Maybe it is just because of the view or maybe because of the hypnotic sound of bongos played by the hippie drummers that hang out at Cala Benirras.
Benirras has always been loved by hippies during their golden age and so it is nowadays, but don't get my wrong! It is not that kind of  beach exclusively for alternative people! It is very popular also among families with children, young people, common tourists and locals. So, don't be concerned about the sunset hippie ritual, because it is that kind of event that makes you feel like you are living a special moment in a special place. I personally enjoy it every time: I like to spend my day laying on the sand, sun-bathing, waiting with all the different people around me for the sunset when the magic happen.
You can be part of the magic every day but on Sunday it gives its best, with lots of drummers playing from 15 to 20 minutes before sunset, a nice hippie market and a huge crowd of people watching the sundown.
And now the worst part: crowd means parking problems, especially on Sunday.
Cala Benirras is easy to reach but it is only accessible by car (30 minutes from Ibiza Town). If you arrive at late afternoon parking is almost impossible, so I suggest you to come in the morning or, at least, at lunch time, but consider that you will probably find a spot along the main road and have to walk for a while.
Besides this little discomfort, Benirras offers some facilities and a few restaurants. The coolest one for me is Elements, with its good food and a nice boutique inside.
So, as you can immagine, going to Cala Benirras is more than just have a nice beach day. It is a real experience!
Do you want to spend your holiday in Ibiza ?
Discover our accommodations in the Balearic Islands