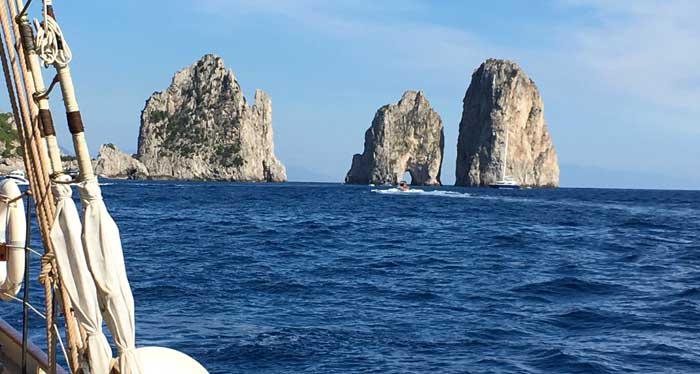 History and Beauty of Capri Island
I spend great part of the year in Sorrento and I am lucky to have a so amazing Island as Capri so close.
The magic Island of Capri is situated in the heart of the gulf of Naples, in front of the Sorrento coast and it is famous worldwide since the ancient times. Even the roman emperor Tiberius fell in love with this place and made his shelter by building many villas over there, in fact, as evidence of its presence remains today his luxurious villa dedicated to Jupiter.
The island of Capri consists of two municipalities, each with its own administration (Capri and Anacapri) and it is one of the most picturesque and most visited sights of the world and attracts, all year round, many visitors from all over the world, thanks to its breathtaking views and the wonderful blue and deep sea.
The coasts are rugged, jagged and rich in caves among which the most famous is the "Blue Grotto", that became (starting from the 19th century) the aim of international writers and artists who described the effects and the play of light sparkling in the grotto.
Anyway, in addition to this, what is most striking, vertically into the sea, are the famous cliffs ("faraglioni"), small rocky islets of the most various forms, that seem to emerge from the deep blue waters and pointed at the sky.
Today the island's architecture shows the typical style of the houses used by the Romans and the Byzantines, related to the particular shape of the land. The island contains many plant and animal species, some endemic and rare, like the blue lizard, which lives on one of the three Faraglioni. The vegetation is typically Mediterranean.
Capri is also renowned for its social life, so much so that it is a privileged VIP destination with so many celebrities of the international jet set coming here every year.
It is also well known for the great food of course, in fact you will find a wide choice of exclusive restaurants and night-clubs where you can enjoy your summer nights that start usually with an aperitif in the famous "Piazzetta".
Finally, the island is easily reachable by speedboat, in 30 minutes from Naples or in 20 minutes from Sorrento, where I live, in fact as soon as I can, I go there, for a day trip or a weekend.
Do you want to spend your holiday in Capri Island ?
Discover our accommodations in Sorrento, Amalfi Coast and Capri island