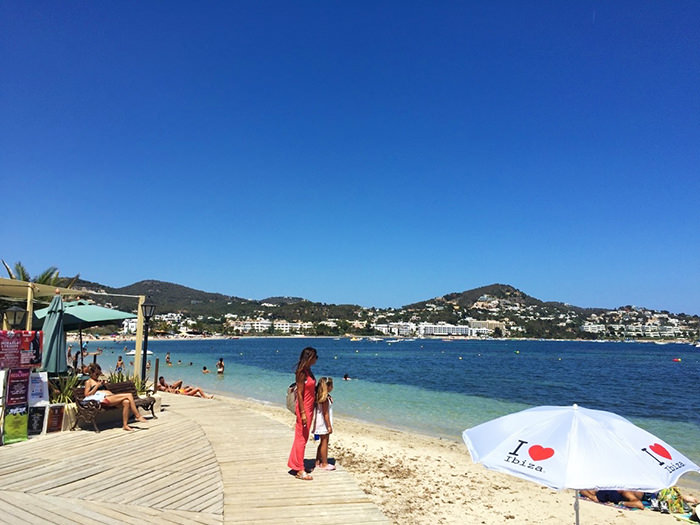 Ibiza family-friendly
Ibiza is mostly known worldwide for the variety of attractions and fun that it offers.
Discos, clubs, bars etc… but it is an optimal destination for thousands of families too, that can find there each year, a beautiful place to enjoy the warm weather, safe bathing and many attractions for kids of all ages.
There are so many family-friendly beautiful beaches in Santa Eulalia, Cala Llonga, Cala Tarida, Las Salinas, Talamanca and in many other places, as well as restaurants, hotels and villas, without considering the several events for children that are organized during the whole season.
For example I went with my wife and my two children to the "Ibiza Spirit Festival" organized for the third time at the beginning of October, in the peaceful atmosphere of Atzaro, where it is possible to celebrate Ibiza's special energy.
 The event runs from 11am until the sunset in the beautiful gardens of Atzaro. A blend of music and movement, inspirational workshops, meditations, alternative healing therapies and yoga, the event aims to bring together the people of Ibiza as one to share in the joy a positive power.
Visitors can experience meditation sessions and inspirational workshops to explore new ways of finding happiness and health in mind.
A variety of Yoga class styles, alternative healing therapies, including, reflexology, massage, reconnection, Reiki and Cranio Sacral, creative dance, sensual tantra and singing circles.
There is a special area dedicated to female empowerment called "Bella Mama" and there's fun for the whole family in the shape of a magical kids area, hosting activities all day including: face painting, puppet shows, yoga for kids, arts and crafts, story-telling, games and more.
If at any point you get hungry there will be plenty of healthy food and drink options on offer to re-energize you before going back home.
Another venue is set in September at Cala Llonga Beach,with musicians and artists to entertain residents and tourists of all ages. You can enjoy a taste of everything from Soul/Funk, Reggae, Blues, Jazz, Rock, Country, Pop, Percussion, Flamenco and Fusion, all on the beach, surrounded by music-loving Ibiza residents and tourists.
With the music, satisfying the adults entertainment needs, there are a lot of activities on offer for the children too, with an exotic animal show, foam party, children's aerobatics workshop and face painting.
Food and drink stalls will offer a variety of international dishes, while a hippy market will be open throughout the day and night, offering a spot of retail therapy if you need a break from the music.
These are just some examples of what Ibiza offers,  that's why it is the ideal place for families and children too, who can enjoy a beautiful sea, soft sandy beaches and many opportunities of fun and entertainment.
Do you want to spend your holiday in Ibiza ?
Discover our accommodations in the Balearic Islands