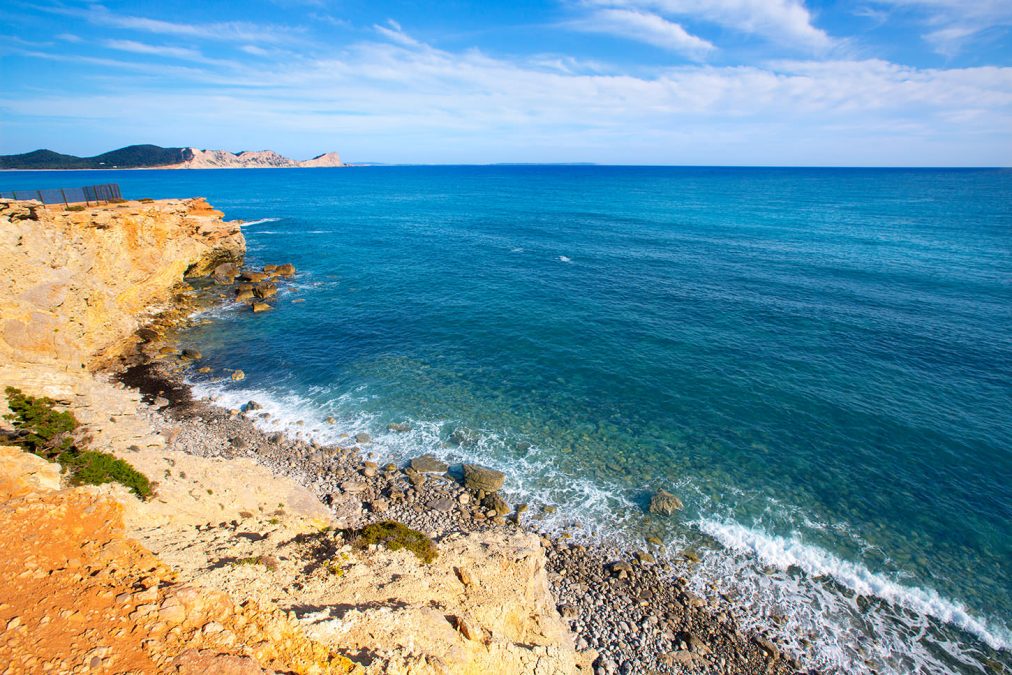 Welcome to the small Paradise of Sa Caleta – Ibiza
Es Bol Nou, known also as Sa Caleta, has become one of the most popular beaches of Ibiza. Its orange-red colored rocky sides, combined with the intense blue of the sea and the dusky sand, create a stunning view. Unfortunately, the lack of space makes this beach a little uncomfortable: it is just 60 X 10 meters wide, therefore a few people are enough to make it crowded.
Despite this, it is possible to rent umbrellas and sunbeds, and the clear blue sea is perfect for snorkeling.
For those who are looking for some relax, the beach of Es Bol Nou offers a chill-out area under the trees where it is possible to get a massage or enjoy a healthy fruit centrifugal.
However, the main reason to go to Es Bol Nou is not its fascinating nature or the restful activities you can do. It is the restaurant Sa Caleta and its paella, which is considered the best of the entire island of Ibiza.
My daughter goes crazy for this paella and I love it too, but the restaurant serves many other outstanding seafood plates that are worth to try. Moreover, you can end your meal with the famous 'Café Caleta', a hot spicy coffee with local liqueurs, orange peel and lemon. It is something very pampering, especially in winter time (the restaurant is open all year long).
Don't expect a fine restaurant on the sea, though. Yes, it has a breath-taking view on the sea but Sa Caleta Restaurant has chosen a simple style, both for the design and the food.
I consider it the perfect location for a romantic dinner, especially if you can get a table outside, with some candle light, the empty beach just in front of you, the sea breeze, the sound of waves on the background…
The beach of Es Bol Nou and Sa Caleta Restaurant are situated at about 2 km from Santa Eularia des Riu. You can reach them easily by public transportation or private car. And don't worry about parking: there is one near the beach and it is for free.
Do you want to spend your holiday in Ibiza ?
Discover our accommodations in the Balearic Islands