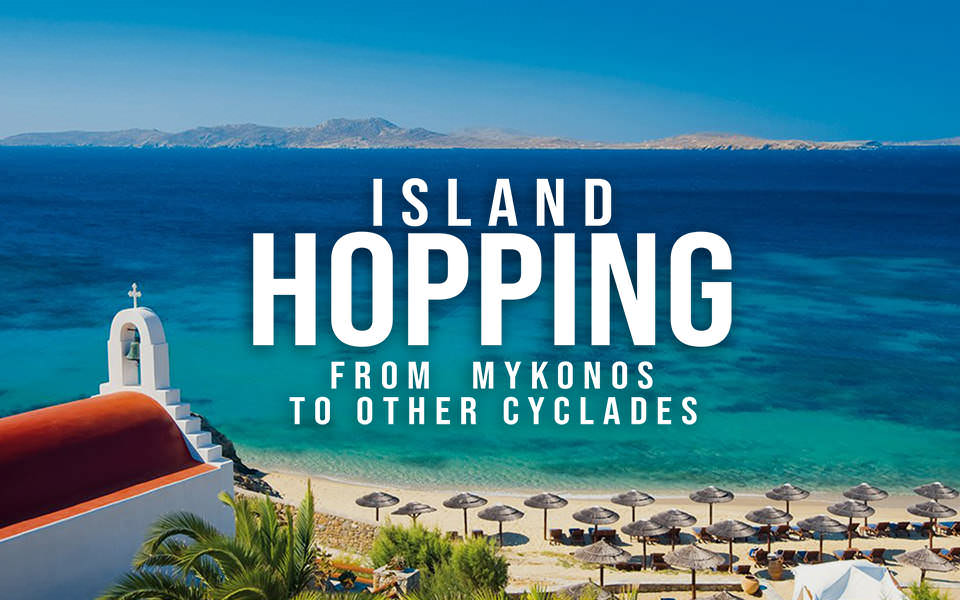 Island hopping from Mykonos to the other Cyclades
Island hopping from Mykonos to the other Cyclades is a good way to escape from the super crowded beaches and parties and explore the archipelago. The position of Mykonos makes easy to reach other destination thanks to the regular ferries that leave from the port.
Actually Mykonos has two ports. One is the Old Port at Mykonos town, usually used by small ferries and excursion boats. The other is the New Port, at about 2km from Mykonos Town. This port is larger, has more marinas and serves bigger ferries and cruise ships. When you decide to take a ferry to another island be sure about the port from which it leaves.
So, which are the island that are worth a visit during your stay in Mykonos? There are many, but in my opinion you should visit the following 3 first: Naxos, Ios and Paros.
Island hopping to Naxos
Hopping from Mykonos to Naxos takes about 1 hour and a half by ferry.
Since it's the largest of the Cyclades, Naxos has many things to offer to its visitors.
Walking through the narrow streets of Naxos Town you can enjoy the greek atmosphere you usually see in photographs. Everything is so typical, with white houses, blue windows and doors, plants hanging from balconies, cafes and restaurants on the sea.
Naxos is mountainous and have gorgeous beaches. Laying on a sun bed or swimming in the crystal clear water is a great way to spend your day in Naxos. Moreover, the strong winds make the island perfect for those who love windsurf and kitesurf.
Among the beaches, the most famous is Agios Prokopios, considered one of the most beautiful beaches in Europe!
The island is famous for its marble. While visiting the interior you will find some ancient gigantic marble statues called kouros.
The statues are near villages like Flerio and Apollonas, and are hidden by the vegetation. Ancient people decided to left them there because they got broken during the transportation to other destinations.
However, the true symbol of Naxos is Portara, an ancient marble door frame, part of an unfinished Apollo temple. Since it is located on a small promontory near the port, it is probably one of the first things you'll see of Naxos. It's perfect for taking pictures for your Instagram profile!
Island hopping to Ios
Despite being smaller than Naxos, Ios is an island in which you can spend more than one day.
This is due to the fact that it combines amazing nature with a great nightlife.
Ios is hilly and many beaches are accessible only by boat. Taking a boat tour is the best way to reach many of them in a single day and enjoy the island from another point of view. Moreover, boat tours usually have snorkeling equipment and many offers lunch on board. It's a great experience!
Among the most popular beaches of Ios are Manganari Beach and Mylopotas Beach.
The hilly landscapes makes Ios perfect for those who love hiking. Many are the trails available.
A popular attraction of Ios is Homer's Tomb, located on a hill in the northeast of the island.
It is said that in Ios there are 365 churches, one for every day of the year. Nobody has really counted them, however it's quite easy to find a church to visit!
The Chora is filled with bars and clubs. They organize parties both during the day and the night. You can meet people from all around the world, dance, drink (responsibly) and have fun. Beach parties are also very popular.
Hopping from Mykonos to Ios takes about 2 hours by ferry.
Island hopping to Paros
Paros is located at about 3 hours by ferry from Mykonos.
This island has stunning landscape, lovely fishing villages and gorgeous beaches. In particular, the Golden Beach, Kolimbithres beach and Santa Maria beach are among the most famous ones.
The Golden Beach and Santa Maria Beach are appreciated by those who are into water sport thanks to the wind and the sport facilities. Kolimbithres Beach has huge smooth blocks of granite that rise up from the shallow clear water on which you can lay down and sunbath.
One spot in Paros that really fascinates me is the Butterfly Valley, 5km south of Parikia, Every summer the valley is covered with thousands of Jersey Tiger Moths, which have a black, white and red coat. This natural phenomenon is truly breathtaking.
Parikia is the capital of Paros and its main port. You can find cafes, restaurants and shops and the old town, with its narrow streets, is very picturesque.
One of the most popular attraction in Paros is the Byzantine Church of Panagia Ekatontapiliani, built in the 4th century and also known as the Church of a Hundred Doors.
A legend says that 99 doors have been already found in the Church and the 100th will be discovered when Constantinople (Istanbul) is returned to Greece again.
Do you want to spend your holiday in Mykonos ?
Discover our accommodations in Mykonos and other Greek islands