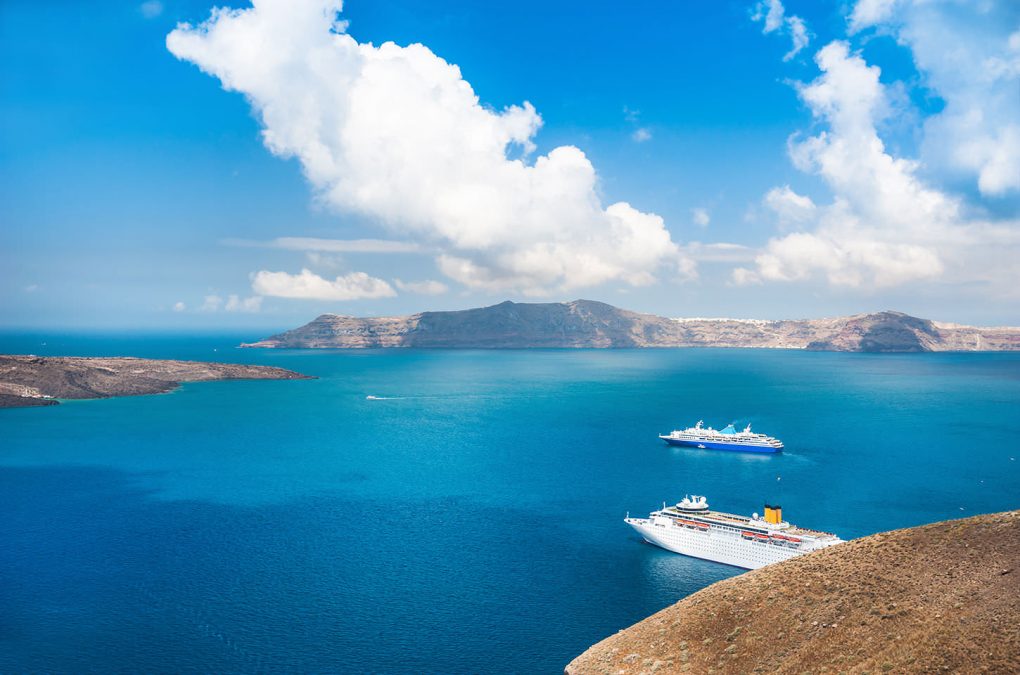 The beautiful islands near Santorini: Anafi, Naxos, Mykonos, Milos.
Who said that during your holiday in Santorini you have to spend the whole time on the island? With a short trip by boat or ferry you can reach other beautiful islands. Some of them are very popular, others no.
Consider Santorini as your headquarter and start discovering the rest of the Cyclades archipelago. Each island has something special to offer visitors.
But which ones you should add to your whish-to-visit list?
So here are 4 Greek islands near Santorini that are worth visiting.
ANAFI
Anafi is a small island close to Santorini, so the trip to get there is short and easy. This means it's perfect for a day trip.
Anafi is not yet a popular tourist destination and it's a good thing! You can enjoy its sandy beaches and the wild mountains without the crowd. Take advantage of it before things change!
Logically, don't expect the comforts and facilities of mass tourism, not even in its Chora.
It's a very quiet island.
NAXOS
Naxos is the largest of the Cyclades.
There are different things that makes this island worth a visit.First, Naxos's Chora is the place for shopping but also history and culture. For example you can visit the famous Portara, the ancient entrance into the island's port.
Second, Naxos has great food. Try the famous Naxos Graviera, a gruyere-like cheese.Thirds, Naxos has lovely sandy beaches and tourist facilities that makes your stay at the seaside very comfortable.Fourth, the strong winds are perfect for windsurfing and kitesurfing.
I could go on and on and on…
The trip from Santorini to axis takes about 2 hours by ferry.
MYKONOS
I love Mykonos! I often talk about this island on My Rental Homes blog.
Mykonos is famous for the nightlife, the clubs, the DJs and the international jet set. Oh, and of course for its beautiful beaches!
A typical holiday in Mykonos includes sun bathing, excellent food and drinks and clubbing.
It's the place to have fun from the morning to late night!
Mykonos is a popular tourist destination, it means that people are everywhere and prices are high. On the other hand, you can find luxury hotels, super fancy beach clubs and restaurants.
If you are in Santorini for your holidays I think that it is worth to spend a few days on Mykonos to enjoy its party-loving atmosphere.
The trip from Santorini to Mykonos takes about 2-2.5 hrs by ferry. There are also direct flights that take only 30 minutes.
In the blog you can find several articles on Mykonos.
MILOS
In my opinion, Milos has some of the best beaches of the Aegean Sea and it is still not so popular among tourist.
Milos coastline has a variety of landscape. Sandy beaches with clear water, white rocky cliffs, quarries and stacks.
This fascinating nature is still intact despite the mining activity.
The eastern part is mountainous and less traveled by tourists. Some areas are prohibited if you do not have a jeep.
Milos is the place to relax. You can't find huge tourist complex, crowded streets or VIPs.
It is as beautiful as the famous statue od Venus that was discovered on the island back in 1820.
You can spend 5 or 6 days in Milos, discovering all its beauty. The trips from Santorini takes about 5 hours by ferry.
CONCLUSION
The Cyclades archipelago consists of about 220 islands. It would be great to visit them all! Serifos, Folegandros, Andros, Ios, Kea…every island has something unique. Just chose the ones you prefer!
Do you want to spend your holiday in Mykonos ?
Discover our accommodations in Mykonos and other Greek islands