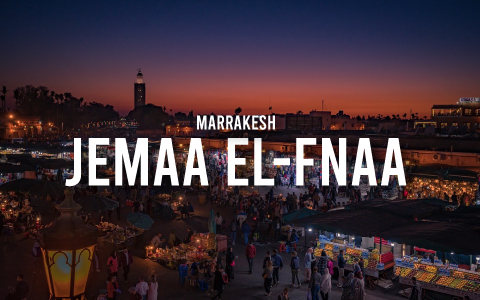 Jemaa el-Fnaa: Marrakesh's Enchanting Heartbeat
In the heart of Marrakesh, Morocco, lies a place that encapsulates the city's vibrant spirit and rich culture – Jemaa el-Fnaa. This bustling square is an experience that immerses you in the essence of Marrakesh.
Jemaa el-Fnaa: A Kaleidoscope of Senses and The Melodic Chaos
During the day, the square is abuzz with activity as merchants set up their stalls. Here you can find everything from colorful spices to exquisite textiles and handicrafts. The vibrant tapestry of colors and textures is a visual feast!
As the sun sets, the melodies of traditional instruments, and the calls of street performers fill the air. Snake charmers captivate onlookers with their mesmerizing dance, while henna artists create intricate designs on willing participants.
As night falls, the square transforms into an open-air food court, where an array of stalls offer dishes that awaken your taste buds. From steaming tajines filled with tender meat and aromatic spices to fluffy couscous and flaky pastries, everything looks delicious. The adventurous can savor snail soup, a local delicacy that may challenge your palate but is an integral part of the experience.
Navigating the Bustle of Jemaa el-Fnaa
The narrow alleyways branching off from the square lead you deeper into the labyrinthine Medina. Here, you'll discover hidden treasures waiting to be uncovered. It's a good idea to have a basic sense of direction or choose a local guide to fully explore the nooks and crannies that this bustling area has to offer.
An Unforgettable Experience
A visit to Marrakesh would be incomplete without experiencing the magic of Jemaa el-Fnaa. This place challenges your senses, ignites your curiosity, and leaves an indelible mark on your memories. Whether you're haggling for spices, indulging in local delicacies, or simply soaking in the vibrant atmosphere, Jemaa el-Fnaa offers a captivating glimpse into the soul of Marrakesh and Morocco as a whole.
However, it is more than just a marketplace; it's a living testament to the intersection of history, culture, and tradition. The square has been a meeting point for locals and travelers alike for centuries, serving as a hub for storytelling, music, and dance. Here, you can witness the traditions that have been passed down through generations.
In the heart of Jemaa el-Fnaa, past and present converge, leaving you with stories to tell and memories to cherish long after you've left.
Are you planning to visit Morocco?
Discover our luxury accommodations in Marrakesh