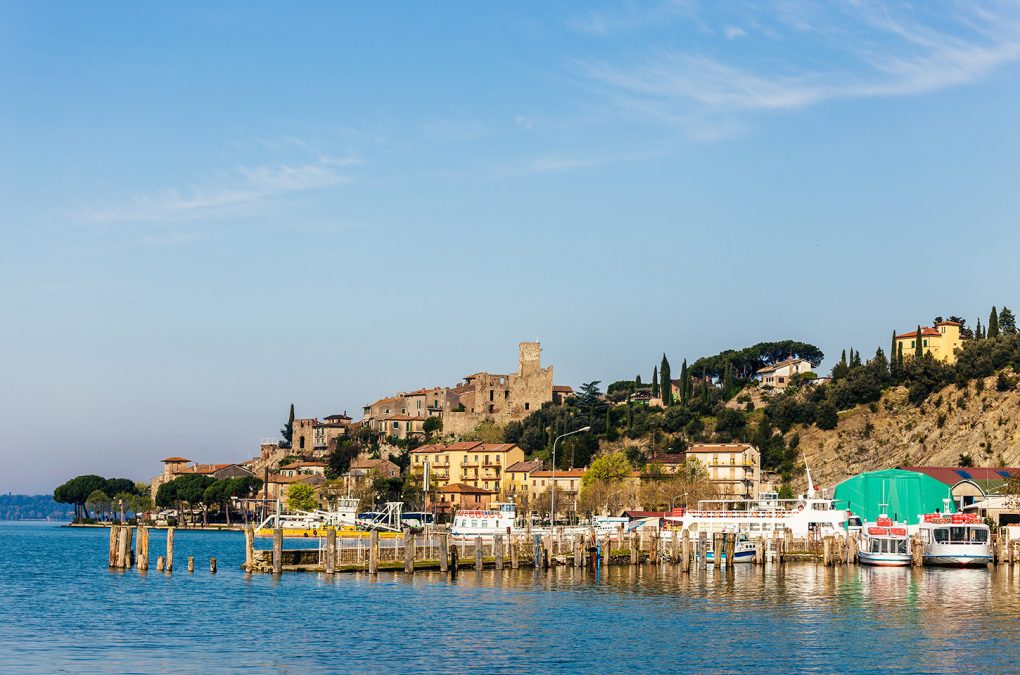 Lake Trasimeno
I have already told you that I lived in Montepulciano for a while. At the time I had friends in Perugia and every time I had to visit them I drove on a road along Lake Trasimeno. Although that road is not particularly memorable, I consider Lake Trasimeno one of those places worth visiting.
When people think of Tuscany and Umbria they imagine hills, cypresses and vineyards, medieval villages and cities like Florence, Pisa or Perugia. Lake Trasimeno is something a little different.
First of all, it is the largest lake in Central Italy, and the fourth largest one in the country. Then, it offers an enchanting landscape.The lake is almost entirely surrounded by hills, except in the direction of Val di Chiana (famous for the breed of cows that produces high quality meat).
What can you actually do by the lake? You can walk along its shores, discover nature, go fishing, do kite surfing or simply enjoy the moment. But there's more.
Hidden between the hills that surround the lake, are small villages with interesting things to see.
I want to recommend you 3 of them.
The first one is Castiglione del Lago, with its ruins of Etruscan tombs and its castle.
Niccolò Macchiaveli and Leonardo Da Vinci stayed at the Ducal Palace, now used as headquarter of the municipality. You should not miss the walk along the suggestive passage that connects La Rocca and the Castello del Leone.
The second one is Città della Pieve
Città della Pieve it's a medieval village, inhabited since the time of the Etruscans and Romans, and it is famous because there is one of the narrowest alley of all Italy. It's Vicolo Baciadonne and it's only 80 cm wide! Its name can be translated into something like "the women kissing alley,", since its width makes pedestrians to get as close as they're going to kiss each other. Of course this is just a legend and nothing bad will happen to you, if you're going to walk through the alley.
Città della Pieve is also the birthplace of the Perugino artist and several of his artworks are still in town.
The third one is Magione, a village dominated by an impressive castle build by the Knights of Malta.
Of course, Lake Trasimeno can be visited also by boat. By boat you can reach its islands, such as Isola Maggiore or Polvese. Polvese is still uninhabited and it is used as a reserve for environmental research and educational visits.
Lake Trasimeno is a perfect destination for a relaxing trip, but it is also home to one of the most important Blues music festivals in Europe. The Trasimeno Blues Festival takes place every year in late July, and combines the great music with the natural and historical attractions of the area.
Besides history, architecture and art, Umbria and Tuscany are also famous for good food.
The typical products of the Lake Trasimeno area are the fish dishes, oils and wines (Vino dei Colli del Trasimeno, Grechetto, Vin Santo).
Then there are two products that I invite you to look for in restaurants or shops. One is the Fagiolina del Trasimeno, a precious bean. The other is the Torciglione, a snake-shaped cake made of almonds, sugar and egg whites. Families usually prepare it for Christmas.
In conclusion, I really think that Lake Trasimeno and its area is worth a visit. And I truly hope you'll follow my suggestions.
Do you want to spend your holiday in italy ?
Discover our accommodations in Umbria