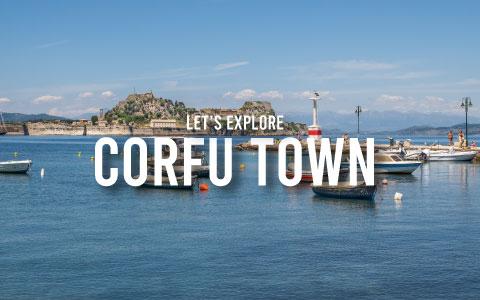 LET'S EXPLORE CORFU TOWN
Corfu is one of the most popular Greek islands. It is famous for its white beaches, the clear sea water and unspoiled nature. However, this island is rich in history and art, which are particularly visible in Corfu Town.
CORFU TOWN
Corfu Town is located on the east coast of the island and is the capitol town. 
Here you can perceive the legacy of the Venetian domination, clearly visible in the architecture and pastel colors of the buildings.
The historic center is a well-kept and clean pedestrian area. There are souvenir shops and many bars to stop for an aperitif. Behind the Venetian palaces you can glimpse the sea with its splendid colors.
Corfu Town is lovely. So much so that it was chosen as the set of some scenes in the James Bond movie For Your Eyes Only (1981).
There are several places and attractions in Corfu Town that are worth visiting. And here are a few.
WHAT TO SEE IN CORFU TOWN
The Old Fortress Palaio Frourio
Palaio Frourio is an old fortress built in the 14th century by the Venetians. 
It's a must-see for those who are in Corfu for the first time.
The major highlights of the fortress is the Church of St. George and the spectacular views of Corfu that can be seen from there.
in 1577 the Venetians built a new fortress to protect the city against the Turks. This fortress is open to visitors like the old one.
The Esplanade (Spianada)
Between the Fortress and the town is the Esplanade (Spianada). This square is said to be the second largest one in Europe.
Since it is covered in grass, it is used by locals to play cricket, a heritage of the British domination during the 19th century.
The Church of Saint Spyridon
The Church of Saint Spyridon is named for the patron saint of Corfu, whose remains are housed in a crypt of the church.
The red domed bell tower is not only one of the main landmarks of Corfu but also the highest point in Corfu Town.
The Achilleion Palace
The Achilleion Palace was built in 1890 for a former Empress of Austria. It was home to the last German Emperor Wilhelm II and now it's a museum dedicated to the property itself. 
Outside it looks elegant with lots of details connected to the Greek mythology, while the interiors are decorated with frescos and artworks.
Are you coming to Corfu?
Discover our accommodations on the island