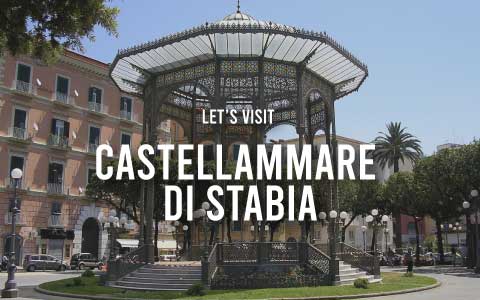 LET'S VISIT CASTELLAMMARE DI STABIA
Castellammare di Stabia is an excellent destination for both relaxing holidays and fun holidays. The beautiful panorama of the Gulf of Naples is the backdrop to cultural events and places rich in culture and history.
ARCHAEOLOGICAL SITES OF CASTELLAMMARE DI STABIA
Speaking of history, the ancient town of Stabiae was already known as a tourist resort well before the birth of Christ, especially for the healing properties of the local water. Still today, many choose to come to Castellammare di Stabia for the renowned spas.
Another popular attraction are the archaeological excavations.
It's exciting to visit the well preserved remains of ancient roman villas, such as Villa Arianna, Villa San Marco, Villa del Pastore, or the San Biagio Grotto, an ancient Christian temple carved into the rock and decorated with frescoes dating back to between the sixth and fourth centuries.
WALKING THROUGH THE TOWN
Thanks to the mild climate, staying in Castellammare di Stabia is a pleasant experience during most of the year.
In addition to the archaeological sites, the town deserves a long exploratory walk. What to see? Here a few suggestions:
the ancient castle from which the town takes its name – Castellammare means 'castle on the sea',
 Piazza Monumento which overlooks the seafront,
the park of Villa Comunale,
the Arabic-style music pavilion called Cassarmonica,
Piazza Cristoforo Colombo, also known as Piazza Orologio,
Piazza Giovanni XXIII with the cathedral and the town hall,
Piazza Fontana Grande,
the promenade and the kiosks where you can taste the typical street foods of Campania, or the typical local drink, the Acetosella.
THE BEACHES OF CASTELLAMMARE DI STABIA
Castellammare di Stabia is a seaside town and there are several beaches where to spend the summer days.
In this part of the Gulf of Naples there are mainly pebble beaches. Some of the beaches are public and free, others are managed by beach resorts.The Beach resorts are generally equipped with sunbeds, umbrellas, hot and cold showers, restaurants and bars, parking lots and often even the wi-fi.
Some are more fashionable, with music and entertainment, such as Famous Beach and Stone Beach. Others are more peaceful, such as Bagno U.Conte where there are also some sulfur springs. After all, Vesuvius is close and there is no lack of volcanic activity in the whole area.
One strong point of staying in Castellammare di Stabia for a holiday is that the town close to other enchanting places that are worth a visit, such as the Sorrento Coast, Punta Campanella, Pompeii, Naples, but also the islands of Capri and Ischia.
Do you want to spend your holiday in the Sorrento Coast ?
Discover our accommodations in Castellammare di Stabia