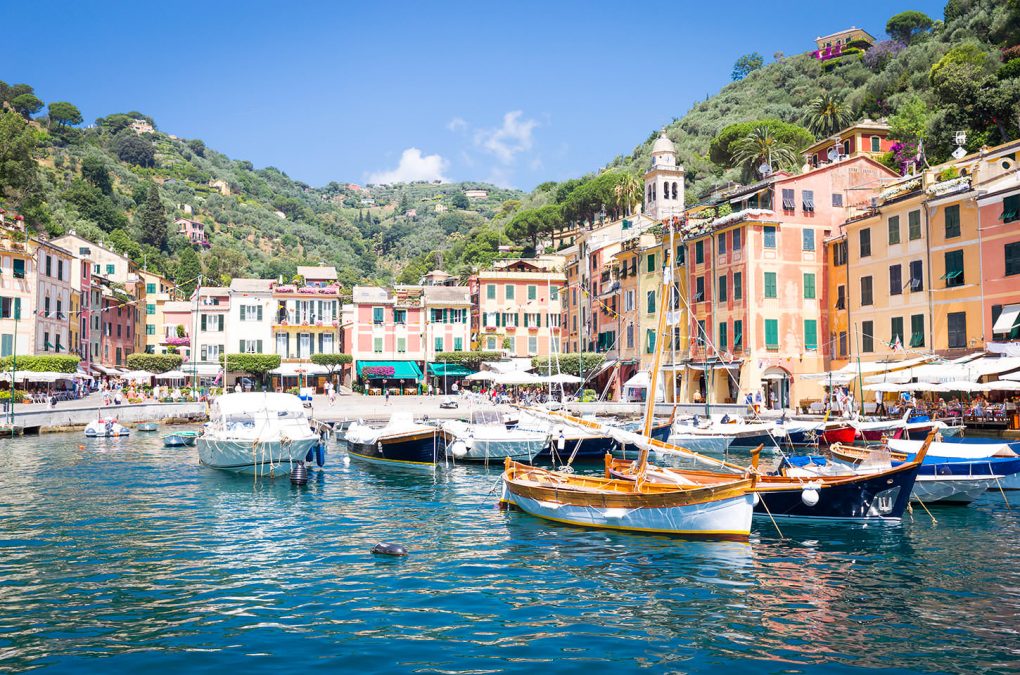 Liguria in April: 3 Events for A Lovely Spring
Liguria in April starts to be even more enjoyable than usual. Trees and flowers are in bloom and the warmer temperatures invite people to go out, take a walk in the parks or along the seafronts.
Day trips to Cinque Terre or cities like Genoa or Sanremo are a must during the weekends.
If you are coming to Liguria in April, many are the events that are held all around the region.
Among those, I've chosen 3 that I find particularly interesting for 2019.
Easter in Rapallo
Some days before Easter Sunday, a gigantic decorated egg is placed at the Chiosco della Musica at the seafront of Rapallo.
The egg is an empty structure made of wood and iron that contains toys, sweets and other surprises for children. 100 of them can try to break the egg on Easter Sunday but it's not an easy task! What if they aren't able? Well, some members of the organization body will break the egg and distribute small chocolate eggs and surprises to all the children.
This event is particularly dedicated to children but adults will surely have fun watching them putting all their efforts to destroy the gigantic egg. Moreover, in Easter the town of Rapallo is embellished with all the floral sculptures of the local floral festival.
If you are brave and weather is good, Easter Sunday is a good day for trying to take the first swim in the sea.
The Flower Festival of Albenga
Liguria in April is all about flowers! They are the most typical product of this region, so it's quite common to find events connected to them almost everywhere during Spring.
From the 20th of April to the 12th of May 2019 Albenga host the floral festival of Fiori d'Albenga.
For a month the historic center of the town is transformed into a huge floral park, with floral sculptures, beautiful flower beds and street stands dedicated to flowers and aromatic plants.
You can simply walk through the street and enjoy the view or attend to some of the collateral events, such as guided tours, art exhibitions, concerts.
On weekends Fiori d'Albenga includes some culinary events as well, usually dedicated to the 4 exceptional local variety of artichokes, asparagus, zucchini and tomatoes. However, this year there's something new! Some of the menus will be all about flowers.
If you have never eaten flowers, well, that's an opportunity!
Albenga is a lovely town that has preserved the ancient Roman structure with two main streets intersecting at the center, but it is also a medieval town, with several medieval tower, the cathedral and the baptistry that ooze the atmosphere of past time.
The Kite Festivals
Liguria in April 2019 will host kite festivals.
Is there anything more fascinating than watching kites floating in the air during a spring day?
Kite pilots and amateurs from all over Europe gather on the beach of Andora bringing their kites with them. Some are small and fast, others huge and static, some are simple, others are elaborate but all of them are colored and wonderful.
At the kite festival of Andora you can enjoy spectacular exhibitions of kites, battle of rokkaku, a typical Japanese kite, and attend to free kite piloting lessons. I read that this year a huge kite will drop candies all over the visitors.
Don't expect a huge festival with thousands of people. It is more an intimate event in which you can easily start to chat with the one sitting next to you and calmly enjoy the seaside.
A similar kite festival is held in Imperia, however this festival is aimed to educate people about the importance of respecting the environment.
On the beach of Borgo Marina, world-famous kite pilots will perform with kites of all shapes and sizes. You can lay down on the sand and watch the choreographies and the acrobatic flights and once you are tired of them you can visit the stands that sell local products or attend to one of the collateral events.
Both the Andora and Imperia Kite Festival are held on the 6th and 7th of April.
Of course, Liguria in April has plenty of other scheduled events for visitors and residents. I'm sure that wherever you are going you will surely find something interesting to do.
Do you want to spend your holiday in Italy ?
Discover our accommodations in Liguria