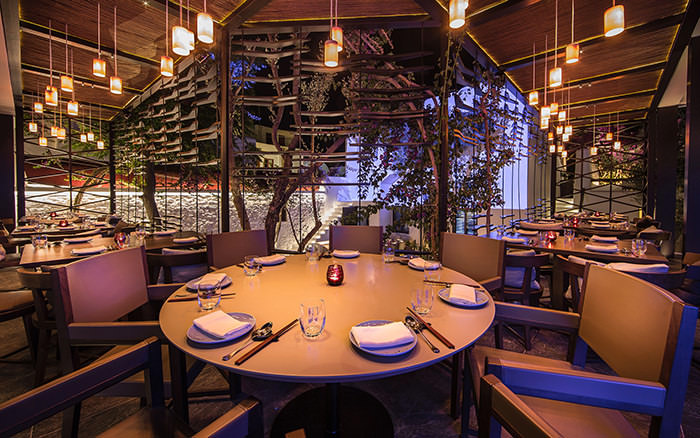 Ling Ling of Hakkasan Mykonos
I wish to tell you something very special that I experienced in Mykonos last summer about the food.
I love Greece and I love this island in particular, the sea, the climate, the nightlife, its culture, the friendliness of its people and of course the food, but apart from the typical Greek dishes (that I love so much), I had the pleasure to discover that a top restaurant like "Ling Ling of Hakkasan", specialized in modern and excellent (in my opinion) Asian cuisine, opened last summer in Mykonos too.
This restaurant belongs to one of the most exclusive gastronomic brands of the world "Hakkasan" that I well know and that is present in many countries throughout the world such as: UK (in London, where the first restaurant was founded), USA (New York, Las Vegas, San Francisco), Emirates (Dubai, Abu Dhabi), Shanghai, India (in Mumbai) etc…
In this place you will find both an open-air restaurant and another one inside, projected by renowned interior designers and you cannot define this place just a restaurant, or a lounge bar or a nightclub, it is something in between.
It's an experience that must be done. Excellent choice of ingredients cooked with attention and care typically oriental. The staff is very friendly, careful and discreet, but also very helpful in suggesting the right menu. The atmosphere is unique, light and shadows and an eclectic soundtrack create a surreal atmosphere.
Among the wide choice of dishes, I would suggest, in particular, the typical Chinese dish "Dim Sum", steamed and filled in with fish or crustaceans, a real delight.
By the way, besides the food, do not overlook the innovative cocktail list which is a "must" as well.
Finally I would say that this is an experience to do in Mykonos although a bit expensive, but worth it…
Do you want to spend your holiday in Mykonos ?
Discover our accommodations in Mykonos and other Greek islands