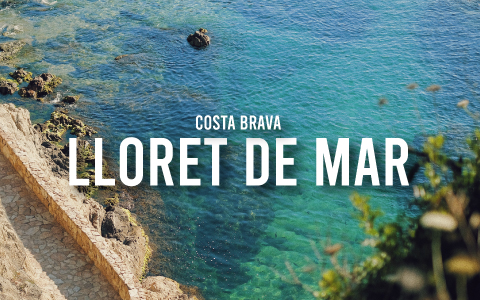 Exploring Lloret de Mar: A Vibrant Coastal Gem of Costa Brava
Looking for great beaches, rich history, and vibrant nightlife? Lloret de Mar, along the Spanish Costa Brava, is the right place! This enchanting town is a must-visit destination if you are seeking a perfect blend of relaxation and excitement.
From the towns is also possible to explore other interesting destinations on the Costa Brava, such as Tossa de Mar, Girona or Cadaqués.
Brief History of Lloret de Mar
Lloret de Mar boasts a captivating history that adds to its charm and allure.
The town's origins can be traced back to the prehistoric era when it was inhabited by Iberian tribes.
Over the centuries, the town witnessed the influence of various civilizations, including the Romans, who left their architectural legacy in the form of the Puig de Castellet Roman settlement.
During the Middle Ages, Lloret de Mar became a significant seafaring village and experienced the growth of its maritime trade. The town's iconic landmarks, such as the Santa Clotilde Gardens and the Parish Church of Sant Roma, are testaments to this historical period.
In the 20th century, it transformed into a popular tourist destination, attracting visitors from around the world to its stunning shores.
Main Cultural Attractions in town
Lloret de Mar offers a wide array of tourist attractions that showcase its rich cultural heritage and natural beauty.
One of the must-visit sites is the Santa Clotilde Gardens, a sublime example of Catalan Renaissance landscaping. Set atop a cliff, these gardens feature terraces, fountains, and sculptures, providing a tranquil oasis. Moreover, it boasts breathtaking views of the Mediterranean Sea.
For history enthusiasts, a visit to the Parish Church of Sant Roma is a must. This magnificent church, dating back to the 16th century, is a blend of architectural styles, including Gothic, Renaissance, and Baroque. Its stunning interior houses valuable religious artifacts, including a magnificent altarpiece.
Another noteworthy attraction is the Maritime Museum, which delves into the maritime heritage of the town. Here, visitors can explore various exhibits that shed light on the town's seafaring traditions, from ancient artifacts to models of historic ships.
Beaches of Lloret de Mar
Lloret de Mar boasts some of the most breathtaking beaches along the Costa Brava coastline, making it a true paradise for beach lovers.
The main beach, Lloret Beach, stretches over a kilometer and offers golden sands and crystal-clear waters. Visitors can indulge in a range of water sports, from snorkeling and jet skiing to parasailing and kayaking. The beach's promenade is lined with cozy cafes, bars, and restaurants, providing the perfect spot to unwind.
Adjacent to Lloret Beach lies Fenals Beach, known for its pristine beauty and tranquil atmosphere. Surrounded by lush greenery and rocky cliffs, it offers a more secluded and relaxed ambiance.
Nightlife in Lloret de Mar
When the sun sets, Lloret de Mar comes alive with its vibrant and energetic nightlife. The town offers an impressive selection of clubs, bars, and discos, ensuring a memorable evening for party enthusiasts.
The lively main strip, Avinguda Just Marlès, offers a variety of entertainment venues.Each one has its unique vibe.
Some of the renowned nightclubs in town include:
Millennium Party, the largest club in Catalonia;
Tropics, a beachfront venue with an open-air terrace and a diverse music lineup;
ColossOS, a multi-level club renowned for its impressive sound system and top DJs.
For those seeking a more laid-back experience, the town also boasts cozy cocktail bars and lounges, where visitors can enjoy a refreshing drink and soak in the lively ambiance.
Are you planning to visit Lloret de Mar?
Discover our luxury villas in Costa Brava