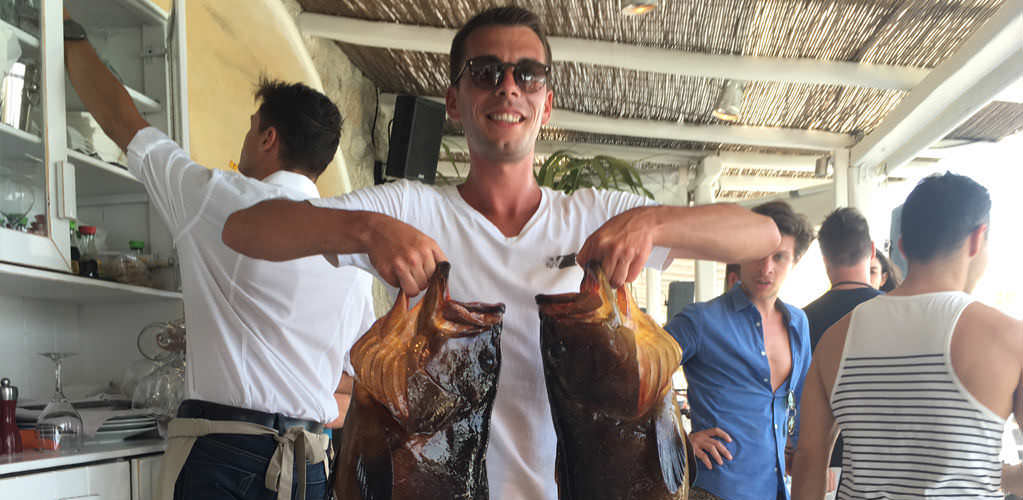 The Luxury side of Mykonos: Nammos
If you are in Mykonos and you are looking for a glimpse of true luxury, well, I suggest you Nammos.
Of course, you should be able to afford the costs of this experience. In fact, spending your day laying on a fashion branded sunbed, with jet-setters just a few meters away, is not for free.
But Nammos is, first of all, a wonderful place. The beach of Psarou is a small treasure of Mykonos. It is surrounded by wild cliffs and its golden sand gently sinks into one of the clearest seas you could ever see. It is one of those place in which is easy to feel fascinated by nature.
I like it. Especially because I can enjoy the beauty of Psarou while the waiters of Nammos take care of me. For example, I can have a cocktail or lunch served by a waiter directly at my sunbed.
Actually, I must confess that last time I went to Nammos I didn't find the staff as kind as I expected, but the location is so stunning and the facilities so elegant that this detail didn't ruin the day. The food I ate was good as well.
As I have already told, it is possible to have lunch at the sun-bed, but there is also a nice restaurant. The strong point of the Nammos Restaurant is the succulent fresh fish, but it is possible to order also salads, sandwiches, desserts and so on. Moreover, you can decide to end your meal in a different way, that is smoking the shisha. Actually they can bring the shisha also by the sunbeds whenever you want.
And now a little note. There is also a tiny lovely boutique that sells a super-selected range of clothes by super-famous brands. If you want to make a present to celebrate the beauty fo your wife or girlfriend, that's the right place!
But how can you get to Nammos, its beach and its Restaurant? Simple. From the Chora of Mykonos, drive south and follow the sign to Psarou beach. It takes just a few minutes.
My conclusion is that Nammos is one of those places you cannot miss if you want to enjoy the best of summer in Mykonos. Don't matter if it's drinking a cocktail in flip flops next to a VIP, or just enjoying good sun and good food.
Do you want to spend your holiday in Mykonos ?
Discover our accommodations in Mykonos and other Greek islands