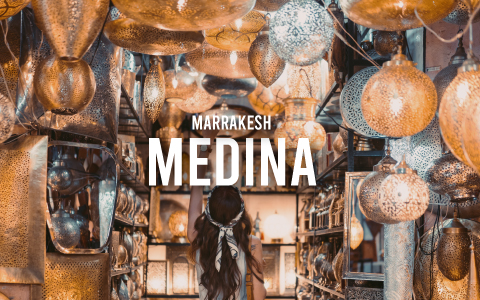 Exploring the Magic of the Medina in Marrakesh
One destination you absolutely cannot miss while visiting Marrakesh, in Morocco, is the enchanting Medina. This historic and vibrant city center is a treasure trove of culture, history, and sensory delights that will leave you spellbound.
Let us take you on a virtual tour of the Medina, sharing all the reasons why it should be at the top of your Marrakesh itinerary.
Medina, A Glimpse into the Past
The Marrakesh Medina, a UNESCO World Heritage site, is a living testament to Morocco's rich history.
As you enter its ancient gates, you'll step back in time to a world of labyrinthine alleys, traditional riads, and bustling souks. The Medina's history dates back to the 11th century when the Almoravid dynasty founded the city. Its historical significance is palpable in every corner, from the towering walls of the Royal Palace to the iconic Koutoubia Mosque.
One of the most thrilling experiences in the Medina is getting lost in its maze-like streets. Wandering around, you'll stumble upon hidden gems, like artisan workshops, fragrant spice stalls, and quaint cafes. Don't worry about losing your way; it's all part of the adventure. Just follow the flow of the crowd, and you'll find yourself in exciting new corners of the Medina.
For shopaholics and treasure hunters, the souks of the Medina are a dream come true. These bustling marketplaces offer everything; traditional carpets, handcrafted leather goods, jewelry and vibrant textiles. Bargaining is a tradition here, so get ready to haggle with friendly shopkeepers as you hunt for unique souvenirs to take home.
Don't forget then that Marrakesh is famous for its delectable cuisine. Seek out local eateries and street food stalls to sample tajines, couscous, and the iconic Moroccan mint tea. The food in the Medina is not just a meal; it's an experience that will tantalize your taste buds and leave you craving more.
Marrakesh's Architectural Marvels
The architecture in the Medina is a testament to the city's rich history and diverse cultural influences. It is a beautiful blend of Islamic and Moorish styles, which create a stunning backdrop for your explorations and photo ops.
From the intricate tile work of the Ben Youssef Madrasa to the stunning Saadian Tombs, every corner holds a visual delight.
One of the most typical example of architecture in Medina is riads, the traditional Moroccan houses. Despite their exteriors, these houses hide lush interior courtyards that offer a serene escape from the bustling streets.
Tips for Exploring the Medina
Here a fews tips to et the most out of your visit:
Dress Modestly: Remember that Marrakesh is a conservative city, so it's advisable to dress modestly when wandering through the Medina, especially if you plan to visit religious sites.

Bargain with Respect: When haggling in the souks, be respectful. Bargaining is common use, but being overly aggressive can sour the experience.

Try Local Cuisine: Don't miss the opportunity to sample traditional Moroccan dishes in local eateries. The Medina is full of hidden culinary treasures.

Respect Local Customs: Remember that you are a guest in another culture, so be mindful of local customs and traditions. For example, it's customary to remove your shoes when entering someone's home or a mosque.

Be prepared to see some damages: In September 2023, a major earthquake hit Morocco and it will take some time to fix everything.
Whether you're a history buff, a foodie, a shopper, or simply a traveler seeking adventure, the Medina has something to offer every visitor.
When visiting Marrakesh, plan a few trips to discover other enchanting places in Morocco, such as the Ourika Valley.
Are you planning to visit the Medina?
Discover our accommodations in Marrakesh