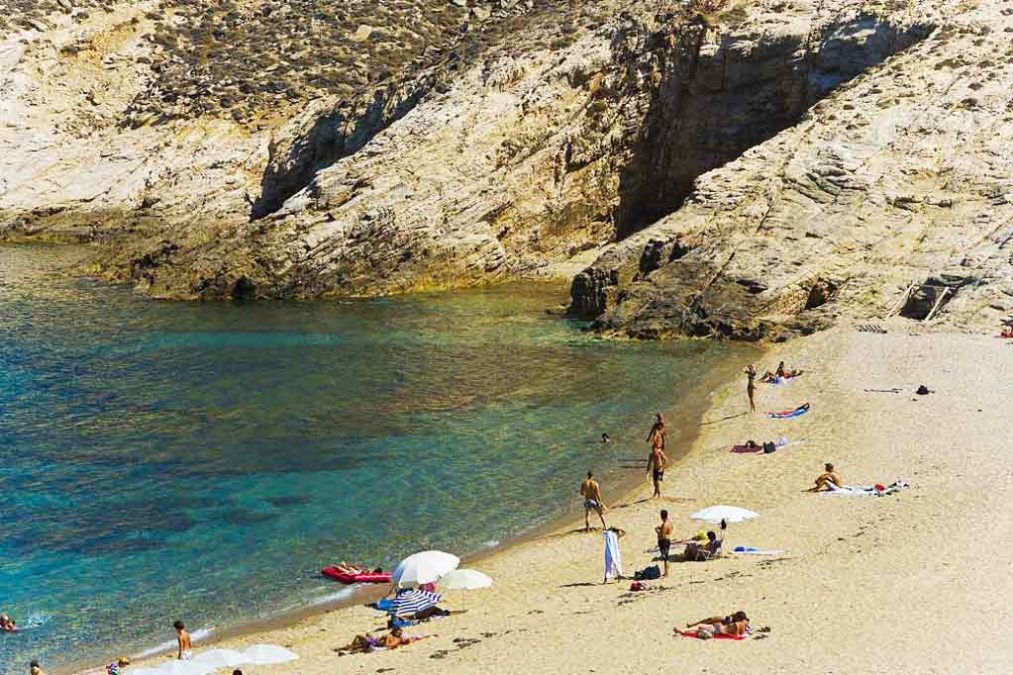 Mykonos – The unspoiled nature of Fokos Beach and its must-try taverna
Mykonos is a wonderful place for a holiday, especially if your looking for fun: clubs, parties and nightlife, but Mykonos has much more to offer. The city of Mykonos (named Chora) has the typical atmosphere you are supposed to find in Greece, with bright white-and-blue buildings, tiny churches, souvenir shops and the harbor.
Besides the folklore and the nightlife, Mykonos is famous also for its many wonderful beaches.
Among all, one has left me with unforgettable memories: Fokos.
Fokos is a beautiful untouched beach in the north of the island.
It is a small, secluded and very calm place, perfect to escape from civilization and spend some time in the savage nature of Greece. Even during high season, the beach is never crowded. Maybe because it can be reached only by private means.
The time I went to Fokos I was lucky because it wasn't a windy day. Strong winds make difficult to enjoy the sandy beach or swim in the sea (unless you are a surfer; in this case the waves can ensure some fun). The sea is always clear, clean but that day it was very cold! Anyway, the view of the fishes swimming near the rocks is worth a little chill.
The beach of  Fokos has no tourist facilities, like umbrellas and sunbeds, so remember to take with you everything you need, in particular something to protect yourself from sunlight. However, food is not a problem at all. Behind the beach there is a small restaurant that gives you the chance to eat some of the best greek food in Mykonos: it is Fokos Taverna. Besides its remote position, this is one of the best 50 restaurants from around the globe awarded with the first Monocle Restaurant Award. The combination between its traditional style, the delicious simple dishes and the view of the unspoiled beach, made me wonder: "What else would I ever ask to life?".
The deep sense of inner peace and communion with nature that people can feel in Fokos is probably the reason why part of it has turned into a naturist beach. Beware of it!
Despite the fact that there is no public transportation that takes you to Fokos, it is easy to reach the beach by car and the journey is as suggestive as the destination. You drive across bare hills, on an dirt road, along an artificial dyke with its lake, called Marathi. All you have to do is follow the sign for Fokos from the small village of Ano Mera and, then, enjoy the whole experience.
Live the life of Mykonos at its best! Check out our web site, find out our luxury apartments and chose the one for your holidays.
Do you want to spend your holiday in Mykonos ?
Discover our accommodations in Mykonos and other Greek islands