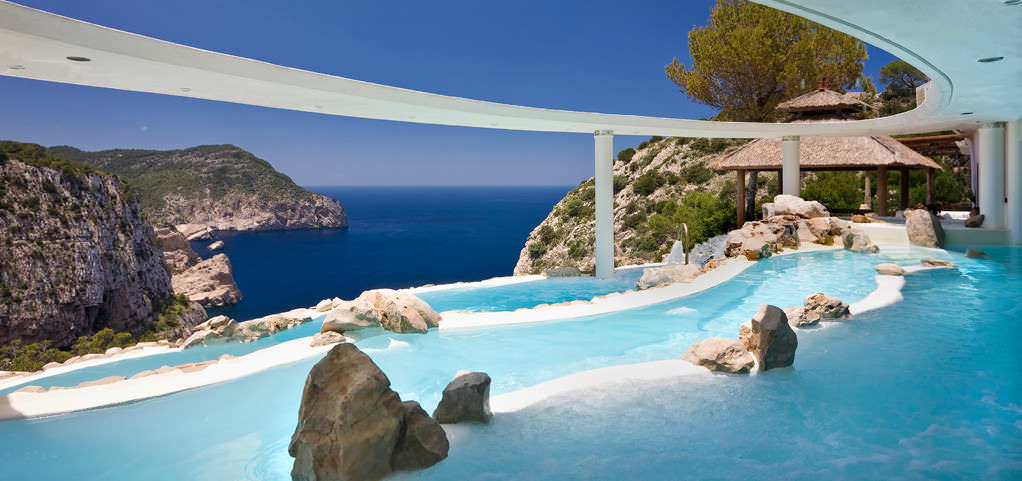 Na Xamena: a hidden SPA in the wild north of Ibiza
In the north of Ibiza there's a place which atmosphere is far far away from the energetic feeling typical of the rest of the island.
No crowded clubs or beaches, nor high volume music, famous djs, drinks or parties. Just silence, nature and relax.
Hacienda Na Xamena is a boutique hotel hidden in a preserved natural park. I've been there with my wife to enjoy a day in its amazing spa, which is open also to external guests (just like its fancy restaurant).
Our stay at Posidonia spa has been a very revitalizing experience. A perfect day in which we took a break from the mundane part of our lives.
Actually, we didn't do anything particularly different from what we usually do in other spa: it was just chilling out and taking hydro-massages, after all. But what made the experience at Na Xamena worthy was its location. The large jacuzzi pools, called Cascadas Suspendidas, hang on a 180 meters high cliff just above the sea, with a suggestive view on a small fiord.
The fiord with its green thick vegetation represents a very unique landscape, something completely different from the characteristic beaches for which Ibiza is famous. I found it extraordinary and very surprising.
But beauty wasn't just a matter of nature: the jacuzzi themselves were great! We had a thalassotherapy treatment through those 8 sea water pools connected by a spectacular waterfall.
We enjoyed the enchanting set, while the high-pressured water massaged our whole bodies and deeply relaxed our minds.
Na Xamena Hotel is definitively an exclusive and elegant way to pamper yourself and a great opportunity to discover a very unexpected side of Ibiza. It's that kind of luxury experience you have to live at least once during your holiday. It's particularly attractive for couples, but friends and families are welcome too.
To reach Hacienda Na Xamena you have to follow the road to Santa Eulalia, then go towards San Miguel/St Gertrudis. Once you are in San Miguel, turn towards Puerto de San Miguel and follow the specific indications for Na Xamena. And finally, enjoy the relax!
Do you want to spend your holiday in Ibiza ?
Discover our accommodations in the Balearic Islands