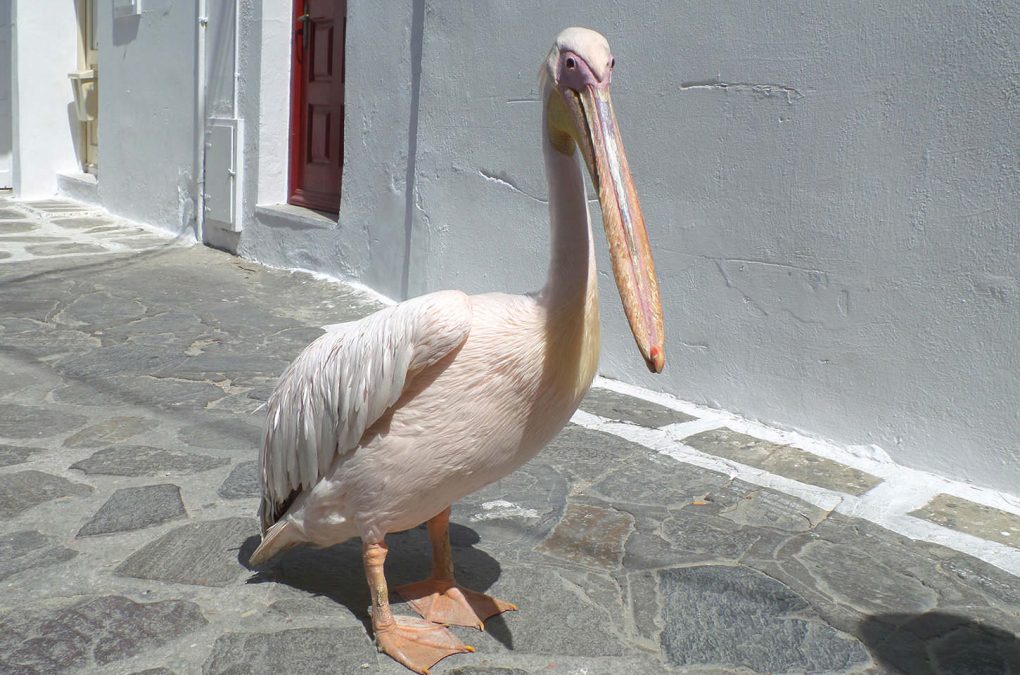 Petros the Pelican, the Mascot of Mykonos
It always seemed a little funny to me that the mascot for the island of Mykonos is a Pelican, considering that these birds aren't even found in the Cyclades islands. But then, Petros the Pelican is a very extraordinary bird who found a special place in the hearts of the local Myconians and in the thousands of visitors who came to see him from around the world.
So, what is the story behind the mascot of Mykonos? Well, the story begins in 1958 when a local fisherman came across a wounded Great White Pelican, just off the coast of the island. The fisherman took the pelican back to the island where it was nursed back to health and fully recovered. But Petros, as they named him, didn't leave the island when he had recovered. Instead, he became a permanent resident, adopted by the locals who fed him tasty Greek food and hung out with him down at the harbour or walking through the narrow streets of Mykonos.
Petros became such a well-known character, with his own fun personality, that he was soon awarded the status of "mascot of Mykonos" and word of his celebrity status spread around the world. In the decades that followed, Petros brought fame and quite a lot of revenue to the once sleepy fishing island of Mykonos, and when he died in 1985 the island mourned his death.
Today though, the legend of Petros the Pelican lives on. Petros II was brought to the island, and there are usually one or two other pelicans roaming the streets of Mykonos ready to have their photos taken, or impressing tourists enough to be treated to food and treats. Often, if one of the pelicans takes a fancy to you he or she might follow you around as you wander around the alleys between the whitewashed homes and businesses.
Interestingly, the original Petros never had any offspring, despite attempts to match him with a couple of females, but now he's such a famous mascot that it seems there will always be a pelican living on Mykonos, and as one dies another is sure to replace him or her.
Do you want to spend your holiday in Mykonos ?
Discover our accommodations in Mykonos and other Greek islands