Photo Exhibition on Sophia Loren by Raffaele Celentano.
I usually write about beautiful beaches and villages, fancy restaurants or trendy beach clubs around the world, but this time I'm going to talk about something completely different. That is, a photo exhibition in Sorrento.
A friend of mine, Raffaele Celentano, made some of his photos available to the Fondazione Sorrento, an organization that promotes culture and art to enhance the local environmental and the historical heritage.
Why do I suggest it to those who are coming to Sorrento for holidays? There are many reasons.
First, Raffaele Celentano is an internationally well-known photographer from Sorrento and I think that visiting a nice exhibition is always a good way to spend time.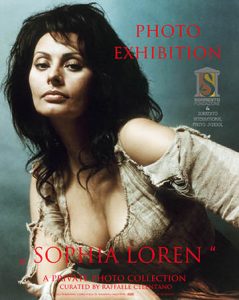 Second, the exhibition is located inside the renovated Villa Fiorentino, a lovely villa built in the 30s.
Third, the collection of photos of Raffaele Celentano is all about Sophia Loren.
Sophia Loren is a honorary citizen of Sorrento since 2009 but, most of all, she is the last diva of that glittering world that is the cinema of the 50s and 60s. In other words, she is a living symbol of the Dolce Vita, a period in which the lifestyle of movie stars made common people dream, an era in which Rome was the capitol of romance and Sorrento became the perfect set for one of the most popular Italian comedies of all time: "Pane, amore e…" (in English: "Scandal in Sorrento").
The 70 photos made available by Celentano portray Sophia in different contexts, with some of the most popular actors of that time, such as Marcello Mastroianni, Vittorio De Sica, Elvis Presley and Clark Gable. Many pictures were taken directly on the sets of unforgettable movies.
You know, if you want to understand the place you are visiting, you should discover its natural treasures and its historical and artistic heritage. But I believe that it's important to discover also its pop culture. Cinema has been a great part of the cultural life of Italy during the Dolce Vita period and it had an impact also internationally. The panorama of the Sorrento Coast has been part of this and this photo exhibition gives the chance to celebrate the beauty of Sophia Loren and remember that romantic time.
The exhibition will be open until October 30, every day from 10am to 13pm and from 4pm to 8pm. The ticket is 5 euro.
And now I want to tell you a curiosity. It seems that Sophia saw the photos of this collection and that she was content about them…well, until she saw a picture of her in the 50s in which she was topless!
The Sorrento Coast is waiting for you! If you are planning your holidays, please check out our luxury accommodations.
Do you want to spend your holiday in Sorrento Coast?
Discover our accommodations in Sorrento and Amalfi Coast