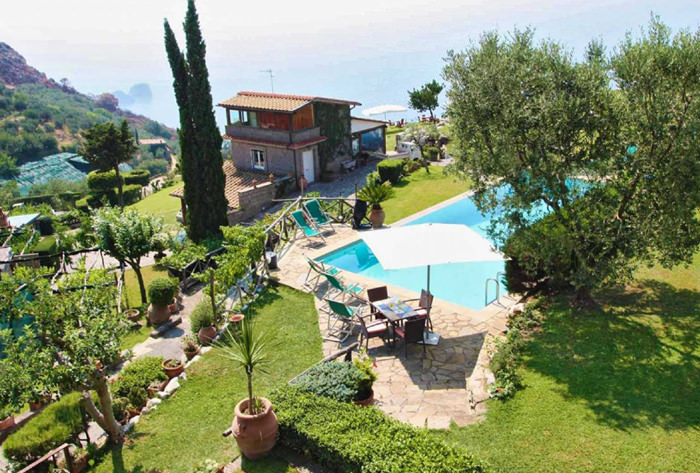 The sea farmhouse in Sorrento
It is rare to find a so huge property that can accommodate big groups for weddings, events and family reunions. The Sea Farmhouse is a complex of 8 small buildings, one of them is the main dining room and the kitchen  and the others are seven villas of one, two, four and 8 bedrooms .
The property extends from the hills to the sea in a magical spot surrounded by  gardens  and by the cultivation of unique products of this land, with an antique flavor.
It is located on the hilly side of the Sorrentine Peninsula, between Sorrento and Positano, which are both  10 km far. Sant'Agata sui due Golfi is the nearest village  (5 minutes drive), where in the very hot summer it's easy to find some refreshment and where you can find anything you need such as: supermarket, pubs and restaurants, pharmacies, post office, banks, etc. Without forgetting the presence of one of the most important restaurants in Italy: " Don Alfonso 1890"
This beautiful property spreads over expanse of land immersed in the nature, where you can  enjoy an amazing view of the sea and of Li Galli islets and the vegetation all around. This corner of Paradise is the perfect shelter for a relaxing vacation, ideal for large groups of friends or families. This place is characterized by a rustic style, typical of a farmhouse;  there is also a factory where are produced different kind of marmalades, tomato sauce, the famous limoncello liquor and other delicacies. If you wish, you will also have the chance to taste all these products; in fact you can require to be served breakfast, lunch or dinner, since there is also an internal catering service available
Moreover it is also possible to organise cooking class or dinners with private chef.
The beautiful swimming pool is surrounded by tables and chairs together with umbrellas and sun beds, where you can have an aperitif admiring an unforgettable   sunset.
The entire villa is equipped with air conditioning and WI-FI connection, a large private car parking is available for all the guests and even if a car is recommended, there is the possibility of having car transfers arranged on time.
The Sea Farmhouse can accommodate up to 29 people and upon request even other 9 people.
If you ore looking for a property that can accommodate a big group on the Sorrento Coast check out the suggested villa.
Do you want to spend your holiday in Sorrento Coast?
Discover our accommodations in Sorrento and Amalfi Coast