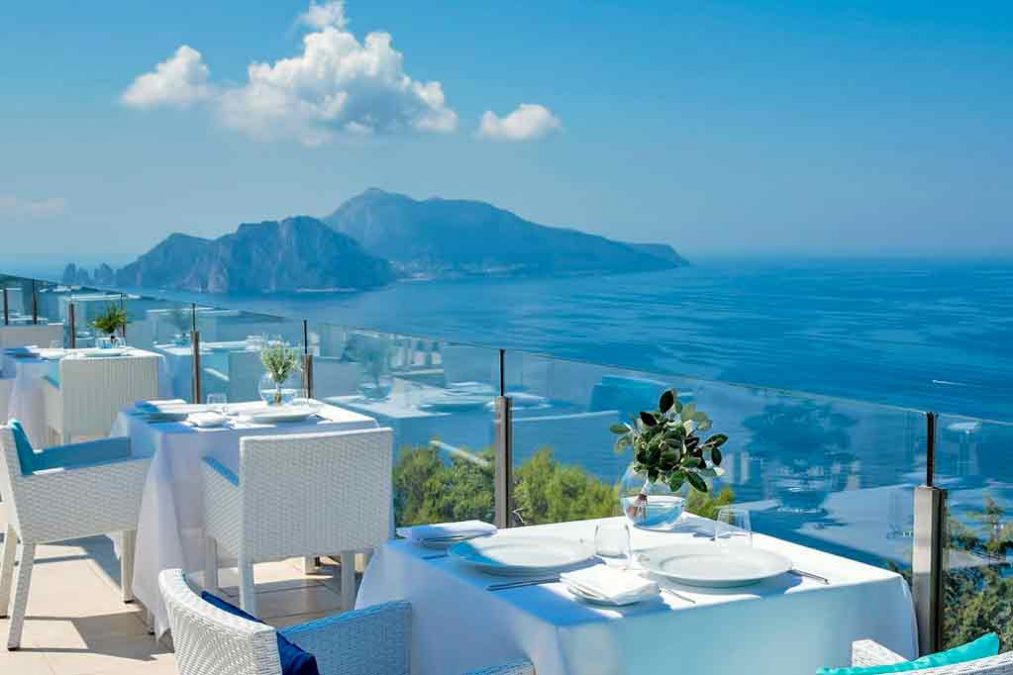 A meal at Relais Blu Restaurant – Sorrento Coast
2 or 3 times a year I give a special treat to me and my family: a lunch or a dinner at the restaurant of the "Relais Blu" boutique hotel in Termini, a village in Massa Lubrense, city of the Sorrento Coast.It is one of my daughter  favourite restaurants, she is still a child but she is already a real  gourmet.
I personally know the owners so I'm sure about the passion and the quality behind every dish they serve. Anyway, if you think that my opinion is not neutral, consider that the restaurant won 1 star Michelin a couple of years ago.
The best thing is that it is open to external customers, giving everyone the occasion to enjoy a very special dinner.
What makes this restaurant so special? First of all, food.
The cuisine of "Relais Blu" mixes the traditional Mediterranean gastronomic culture with that hint of creativity that makes it very contemporary.
The menu is not much extensive, but I've never been disappointed by this. In fact, the low number of dishes is compensated by their intense flavors and the high quality of the chosen ingredients: most of them come from the garden of the hotel itself or from local suppliers. Moreover, the elegant plating turns dinner into a multisensorial experience.
So, food is wonderful (and wine too) , but what makes the dinner unforgettable is the scenario. The Relais Blu restaurant is in a charming, romantic Mediterranean style villa, whit large windows that let you see an exclusive view of the horizon, with the clear blu sea and the island of Capri with its famous Faraglioni, 3 massive coastal rocks that stand out from the waves. It is breath-taking!
I particularly love to go to the "Relais Blu" restaurant in summer, to enjoy the open terrace and lose myself in one of those special sunset that you can see only in the Sorrento Bay, while having an excellent cocktail with some mouthwatering finger food (yes, there is a lounge&cocktail bar and, yes, it is open to external customers too).
For me, all these elements make a dinner at the "Relais Blu" one of the most beautiful memories for everyone who's having a holiday in the area of Sorrento and Amalfi. A pleasure for your mouth, for your eyes and for your heart.
Do you want to spend your holiday in Sorrento Coast?
Discover our accommodations in Sorrento and Amalfi Coast