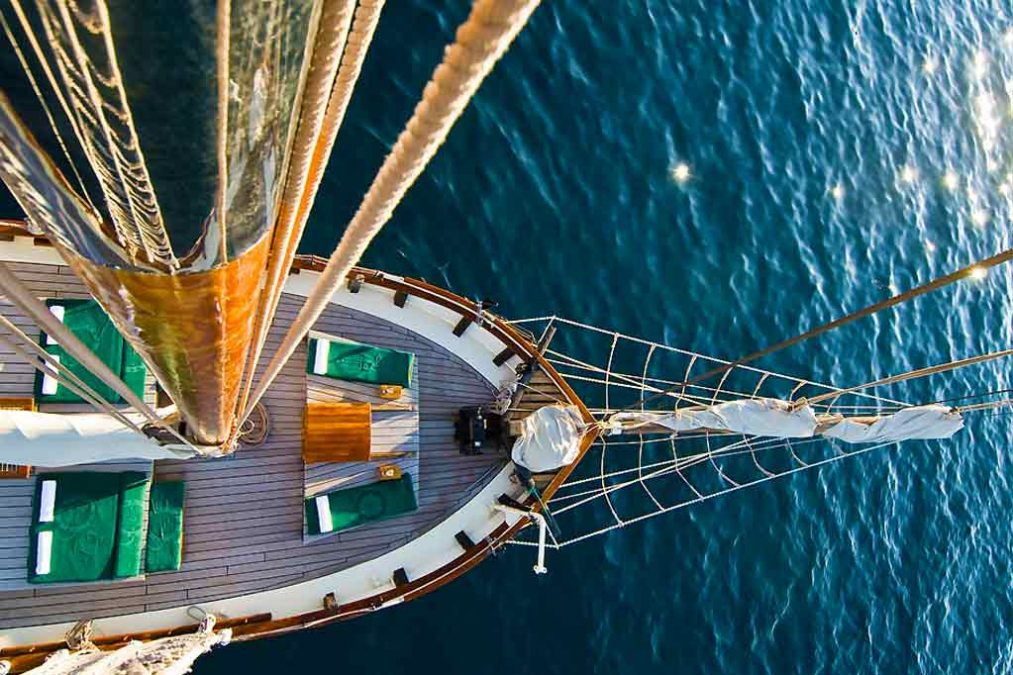 Sail along Sorrento Coast
and discover it under another point of view
Have you ever dreamt about being on one of those spectacular boats sailing across the blue sea, chasing adventures and discovering fascinating new places? Well, if you are planning to come to Sorrento your dream could come true. All you have to do is spending some time on the ketch 'Vera', probably the most ancient ship sailing the Mediterranean and one of the most exclusive, for sure.
I'm lucky because I'm a friend of the owner of 'Vera', so I had many chances to enjoy short trips on it. I never got tired.
Besides the fact that sailing is a kind of activity that gives a revitalizing feeling of freedom, it is also a good way to enjoy the Sorrento Coast from another point of view. It's easy to visit the Sorrento area by car or bus and discover all the enchanting towns, but not everyone has the chance to gaze at the coast from the sea, on a luxury boat. It is something very very exclusive.
Boats are always fascinating but 'Vera' has a story that makes it even more irresistible.
It was a fishing boat launched in 1880 in Denmark and it sailed across the North Sea until 1956, when it was transformed into a recreational ship. Then, the family Del Papa, owner of the Cocumella Hotel in Sorrento, carefully restored it, brought it to the Mediterranean Sea and made it what it is now.
The cozy interiors of 'Vera' and its nautical reliability make every trip comfortable and relaxing. You can enjoy the sun, the sea and the landscape of the coast surrounded by the charm of the past age and the highest safety standards.
Once you are on boat, time passes slowly. As the ship plows the crystal water the scent of the sea and the infinite tones of blue are all around you.
'Vera' is usually available for the guests of Cocumella Hotel for day tours in the bay of Naples or around the Coast of Amalfi, but it is also possible to rent it for parties, events or mini-cruises.
There are different travel packages.
For example, you can weigh anchor at the sunset, have a fancy dinner on the boat, do squid fishing and enjoy the night sky. But it is also possible for you to have longer journeys and reach the Aeolian Islands, Ponza and Ventotene, the Cilento coast or Sicily, but also Sardinia and Corsica. And, if you have enough time, you can choose as a destination any part of the Mediterranean Sea.
Can you imagine a better way to spend a Holiday in Italy? I personally can't. Doesn't matter if it's just for a day or two weeks, to live the experience of sailing on an historic boat like 'Vera' and discover the wonders of the Mediterranean Sea is priceless.
Do you want to spend your holiday in Sorrento Coast?
Discover our accommodations in Sorrento and Amalfi Coast