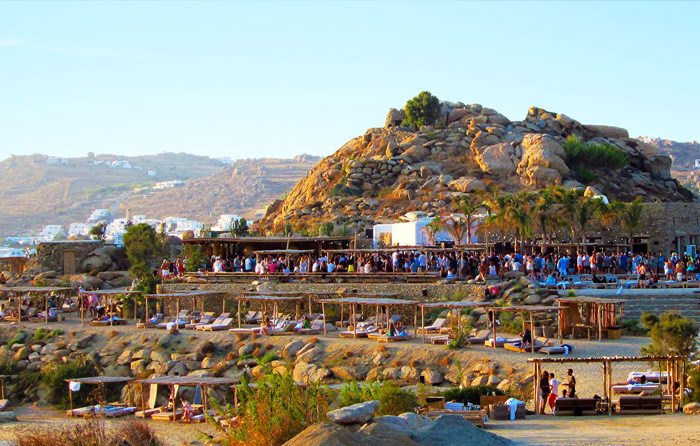 Scorpios Mykonos
Scorpios beach club is located on a cape at the end of Paraga Beach, which is the perfect place for those who look for privacy or simply wish to rest during the day in a quiet place. Here, you will find unique wooden cabanas, which remind the typical Polynesian style. These open-air but shaded structures are well separated from each other offering the opportunity to enjoy an amazing view of the Aegean Sea respecting your privacy. They are suitable both for a couple and a group of friends.
Until 6:30 pm, privacy and tranquility reign on this beach, after this time the sunset ritual begins and a beach day turns into a night of infinite, unpredictable opportunities.
Now, I wish to talk you about the special nights that you can enjoy there at the "Scorpios".
This beach club is a very nice place, cured in every detail and it  also offers food of a certain level where you can even taste the spaghetti (that are rather well cooked), as well as exquisite fresh fish. By the way the service is excellent.
Anyway I recommend you to experience, in particular, the aperitif that is a very unique experience. It is a very special moment, that creates the right atmosphere for the night. The place is well attended (by nice people, young adults, group of friends and families too) and there are the most famous international DJ'S from all over the world, who will take you on an enchanting atmosphere with their lounge music.
They serve very good cocktails and the prices are online with the island.
I can tell you what I experienced personally with my wife, we spent the evening waiting for the beautiful sunset that you can enjoy from there, with a drink and immediately after, thanks to the embracing music background as well, we spent an unforgettable night.
In short, what I feel to tell you is that it's worth going there at least once if you visit Mykonos!
Do you want to spend your holiday in Mykonos ?
Discover our accommodations in Mykonos and other Greek islands