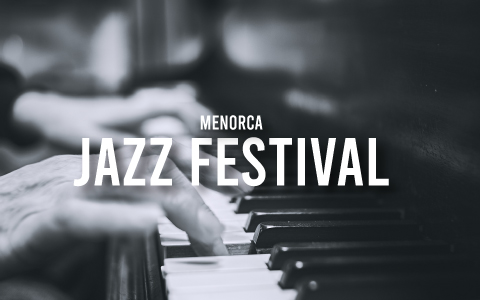 The Menorca International Jazz Festival is one of the main spring events on the island. If you love jazz or just want to experience the culture of Menorca, this festival is an excellent opportunity.
Here is some more information.
THE MENORCA INTERNATIONAL JAZZ FESTIVAL
THE ORIGINS OF THE FESTIVAL
The Menorca International Jazz Festival was born in the late 90s, when a group of jazz music lovers founded an association to promote this musical genre. The idea was to diversify the cultural offer of the island, mainly known for nature, gastronomy and the archaeological heritage.
Thus, the Jazz Obert association began organizing an annual jazz music festival, this year in its 24th edition.
Over the years the festival hosted international artists such as Avishai Cohen, Elvin Jones, Jacky Terrasson, John Scofield and others. Of course, there has never been a shortage of Spanish musicians like Pedro Iturralde, Chano Domínguez, Marco Mezquida, Jorge Pardo and so on.
WHEN AND WHERE THE JAZZ FESTIVAL IS HELD
The festival takes place in spring, usually between April and May, and lasts about 6 weeks.
It is a widespread event that does not have a single location: you can attend concerts in theaters or on the street, in Ciutadella as well as in Mahón or elsewhere.
The dates of the 2022 edition are not yet fully confirmed, but some events seem to be already certain.
MENORCA INTERNATIONAL JAZZ FESTIVAL 2022 – EVENTS CALENDAR
RAY GELATO & THE GIANTS
Saturday, March 12
Teatre Principal de Maó
JOE WRENS GROOVE DROPS
Friday, April 1
Teatre del Casino 17 de Gener
MASTERCLASS: JOAN CHAMORRO Director of Sant Andreu Jazz Band
Saturday, April 16
Sala d'Audiències del Claustre del Carme
SANT ANDREU JAZZ BAND
Saturday, April 16
Teatre de Born
THE KENNY GARRETT: Sounds from the ancestors
Saturday, April 23
Teatre des born
JAZZ AL CINEMA: PARIS BLUES 
April, 27 & 28
Teatre des born (Ciutadella)
JAZZ AL CINEMA: PARIS BLUES 
Thursday, April 28
Cineclub – Ateneu de Maó – OCIMAX (Maó)
MASTERCLASS: IRENE REIG
Saturday, May 7
Sala d'Audiències del Claustre del Carme (Maó)
IRENE REIG QUINTET
Friday, May 6
Auditori de Ferreries
SUSO GONZÁLEZ TRIO feat. RUT FLORIT A Minor K Project
Friday, May 13
Sala Albert Camús – Sant Lluís
NOVÍSSIMS DEL JAZZ 2022
Saturday, May 14
Sala Multifuncional des Mercadal
MASTERCLASS: SONIA ORTEGA & HECTOR ARTAL for dances instructors
Thursday, May 19
Casino 17 de Gener
MENORCA SWING WEEKEND 2022
May, 20, 21 & 22
Ciutadella (several locations)
JAZZ DIDÀCTIC: SOUL & FUNK for children
Sunday, May 22
Pla de Sant Joan as part of Festival Amalgama Kids
MASTERCLASS: TONI VAQUER
Friday, May 27
Orfeó Mahonès
THE VOODOO CHILDREN COLLECTIVE 
Saturday, May 28
Sa Colàrsega – Pla de Sant Joan – Ciutadella
For more detailed information, visit the official website of the Menorca International Jazz Festival.
Are you planning to attend the Menorca International Jazz Festival?
Discover our accommodations on the island