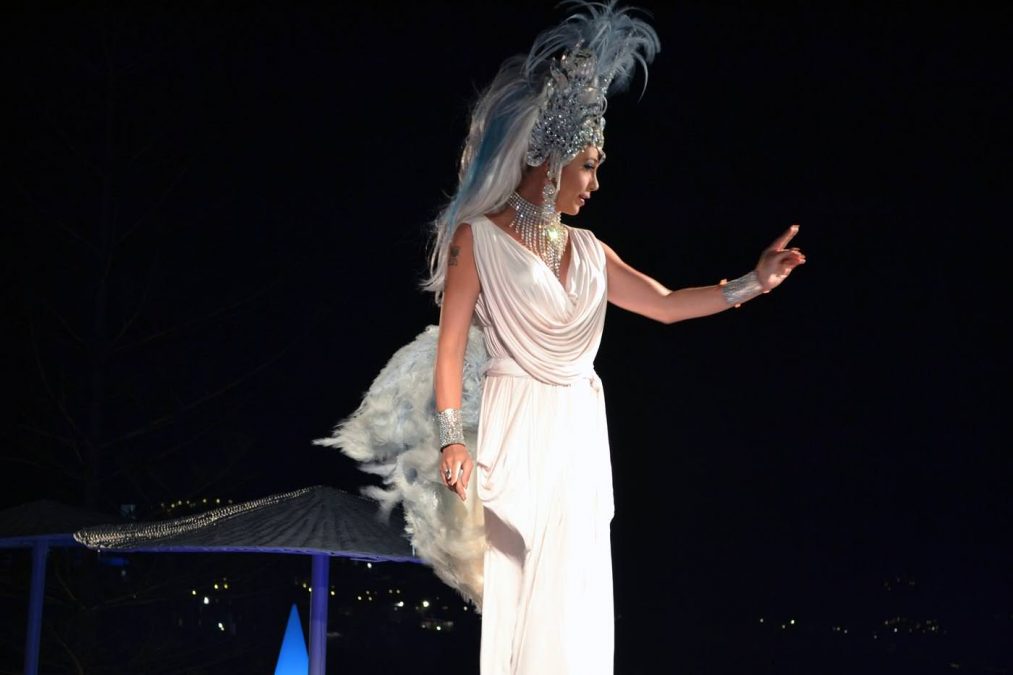 Sunset Bar at Elysium Gay Hotel – Mykonos
Everybody knows that Mykonos is a gay-friendly destination!  This little island is full of great bars, clubs and restaurants that are either aimed squarely at the gay crowd, or are gay-friendly, making it one of the most popular gay destinations in Greece. And, if you're looking for inspiration when holidaying on Mykonos, you must check out the Sunset Bar and Cabaret.
If you're gay or not, this place deserves to be seen! I have been there with my wife and a dear Mykonian friend and I had so much fun.
The Sunset Bar at the Elysium Gay Hotel offers visitors one of the most spectacular sunset views on the island, creating very special atmosphere so: sit back and relax with a drink while watching the sun go down – there's nothing quite like it! And once you've enjoyed the sunset you'll want to stay for the cabaret show. There's a show every day, taking place on the hotel's terrace and set around the pool, so it's a really great setting as the sun goes down and it begins to get dark.
Dancers, singers, drag queens and more take center stage for the show, getting the crowd into the party atmosphere mood. The bar closes at 10 pm every night so this is not somewhere you can spend the entire night, but it's the perfect place to start your evening in Mykonos.
Somebody may find their drink prices too high, but actually if you consider the fact that you're getting to enjoy the cabaret show included in the drink prices, I don't think it's so bad after all! And you won't be staying here all night, so splash out on a few drinks, watch the sunset, enjoy the show, then make your way to another bar, restaurant or club where you dance the night away!
Do you want to spend your holiday in Mykonos ?
Discover our accommodations in Mykonos and other Greek islands