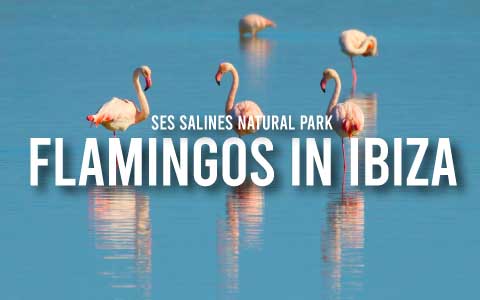 The flamingos in Ses Salines Nature Park
We know that Ibiza is famous for the beaches, the parties and the hippy atmosphere. But the White Island has much more to offer, especially to nature lovers. Indeed, one of the best things to see during a holiday in Ibiza are the flamingos at Ses Salines Natural Park.
THE PARK OF SES SALINES AND THE FLAMINGOS
The Natural Park of Ses Salines in Ibiza
Ses Salines Natural Park is a nature reserve shared by Ibiza and Formentera. It's a truly exceptional place for at least three reasons.
First, within the park you can explore different enviroments: salt pans, sandy beaches, rocky beaches and cliffs.
Then, the park also has historical value due to the salt production. And the presence of the salt pans is also the reason behind the unforgettable scenery of this place. In fact, the water in the pools takes on different colors based on the degree of evaporation of the salt. The shades range from turquoise to emerald, from pink to purple.
The best time to visit the salt pans is at sunset, when the golden sky reflects on the water.
Lastly, in Ses Salines Natural Park there is the main population of water birds in Ibiza. Among them, flamingos are the most popular.
The Flamingos in Ibiza
Each year, between July and October, hundreds of flamingos reach Ibiza. However, it is also possible to observe them also in winter, between February and May. Indeed, spring can be a good time for birdwatching, thanks to the cool temperatures and the low number of visitors.
You can spot the flamingos from the main street of Ses Salines or from the different observatories inside the park.
But why do flamingos stop in Ibiza?
Well, in the ponds of Ses Salines there is a large quantity of Artemia Salina.
This small crustacean helps to ensure the balance of the ecosystem and promotes the production of salt. But it is also flamingo's favorite food! Moreover, it is responsible for their typical pink color. The more they eat it, the more intense their color becomes.
So, grab your binoculars and cameras and enjoy the show!
Are you planning to visit Ses Salines?
Discover our villas in Ibiza!