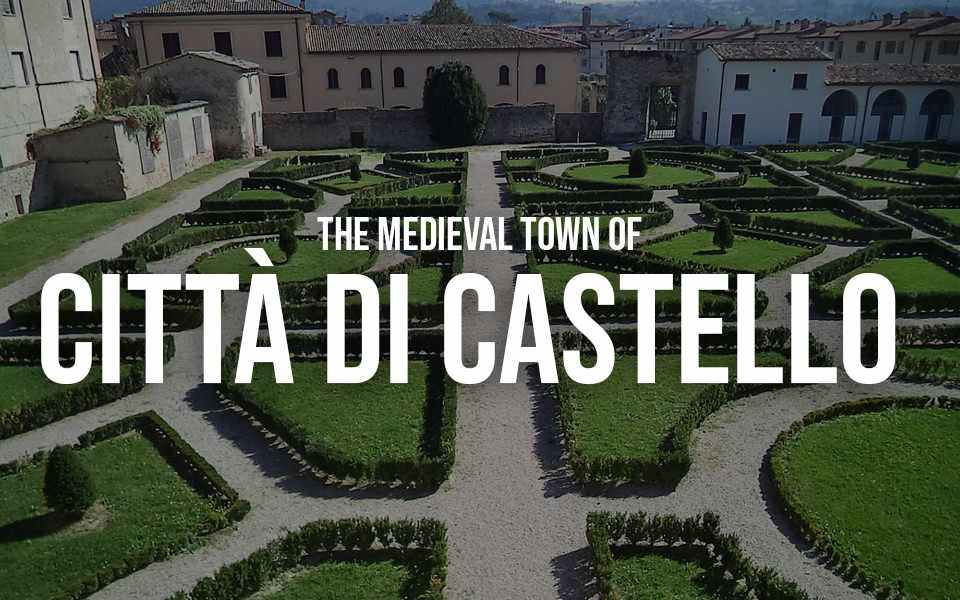 The medieval town of Città Di Castello
Città di Castello is an enchanting town in Umbria, not far from Lake Trasimeno and the city of Perugia.
Umbria is the perfect region where spending the summer holidays, as it joins culture and nature. It is considered the Italian greenest region, where people can enjoy forests, waterfalls, hills and visit many towns which still preserve important historical and artistic treasures.
Città di Castello is well-known also because it's the native town of one of the most famous Italian star in the world: Monica Bellucci.
This town in perfect for a day trip.
What to see in Città Di Castello
To stroll in the city centre is like coming back to old times, as you can recognize anywhere that Renaissance was the highest moment of Città di Castello's splendor.
Città di Castello is renowned for its towers: the most famous one is the Torre Civica (Civic Tower), whose peculiarity is its prism shape, and also named as Torre del Vescovo (Bishop's Tower) because it is joined to the next Bishop's Palace.
We have to mention the Cathedral's bell tower, with its very rare cylindrical shape. Moreover, it is 43,50 m high and with its 7 m external circumference it is for sure one of the tallest rounded bell towers in Europe. We assure that also the Cathedral is certainly worth to visit.
When you get tired of walking, I suggest taking a break in Matteotti Square.
In this beautiful spot, you can mingle with the citizens of Città di Castello, enjoying a nice coffee sitting at the bar, and admire the astonishing facades of the surrounding palaces. In particular, the Town Hall, also called the Priors Palace, is one of the most important public buildings in whole Umbria, but also Palazzo del Podestà, an important Gothic example, Palazzo Bondi-Mancini, Palazzo Vitelli-Bufalini and Palazzo Cappelletti.
If you are interested in painting, you should go to the Art Gallery, where you can admire beautiful examples of Renaissance and Manierist paintings. There also two museums dedicated to the famous contemporary artist Alberto Burri, who was born in Città di Castello in 1915. One museum is within Palazzo Albizzini, while the other one is set in the Ex Tobacco Dryers, where the monumental sculptures are placed in the outdoor lawn.
You can easily take a walk and relax for a while in one of the several parks in the surroundings. Among these, I warmly recommend the Villa Montesca's Park and the Swan Park.
Villa Montesca is a beautiful construction, built at the end of the 19th century and it is for sure the most amazing villa in the surroundings. Its gardens gather exotic and Mediterranean species, common and rare plants, some of them quite small, some incredibly tall and impressive. If you follow the different trails, you will find it's such a nice and refreshing experience!
The Swan Parks is located on the left bank of the Tiber, the same river crossing Rome, just outside the city walls. It is a new park, created in the 90's with a really nice story to tell about: one day, a resident found a wounded swan along the road and decided to bring it to the vet. The swan was cured and set free in the park. Unbelievably, it didn't fly away and, instead, lots of these birds came to inhabit the spot. Today, they are the symbols of these gardens.
If you wish to pamper and take care of yourself, go straight to the Fontecchio Spa.
Far about 3 km from the old town of Città di Castello, these baths are located within a large park with secular trees: the Fontecchio Spa is the perfect place for a relaxing break but they are also recommended for medical treatments.
What to eat in Città Di Castello
You are surely aware that food is serious matter to Italians.
Every region and city has its typical specialties, and so has Città di Castello.
The landscape of this area is mostly hilly and full of mountains, so it is perfect to grow cereals and legumes, but also grapevines and olive trees.
The most well-known food is the white truffle.
If you want to eat fresh truffle, you will find it only in autumn, but in the shops you can find many foodstuffs based on it, with its unique smell and taste.
If you love truffles, you can't miss the White Truffle Fair, which takes place in the old town at the beginning of November, where you will also find many local products such as oil, wine, honey, cheese and cold cuts.
If you wish to try a typical dish from Città di Castello, my suggestion is Baggiana: it is a soup made with beans, tomatoes and basil. It is usually served with a Tigella, a small bread made with flour, water and salt.
Trying the Torcolo is the perfect way to end your meal: this dessert is a braided focaccia bread with candied citron, raisin pine nuts and anise.
I bet Città di Castello will delight your eyes, your heart and your gut!
Are you planning to visit Città di Castello ?
Discover our accommodations in Umbria