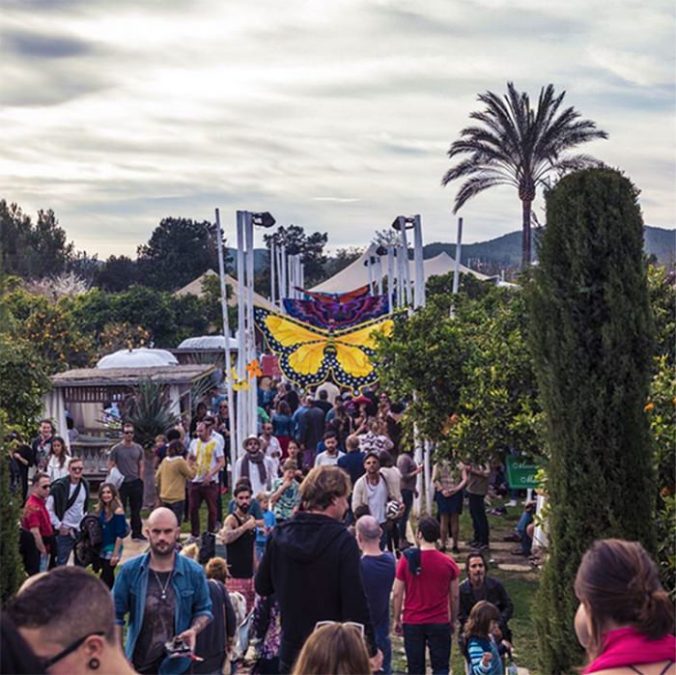 The spring party in Ibiza
The spring party in Ibiza takes place traditionally every first Sunday of spring and this is the event that marks the beginning of the new season on the island of Ibiza, in a unique setting, at Agroturismo Atzaró  that is a century old unique orange farm, provided with rooms, restaurants and spa, situated in the heart of Ibiza.
This year the date chosen is Sunday March 27th (that is Easter) when from midday until late into the night, it will be possible to spend the whole day admiring art exhibitions and various performances of DJs and live bands, while eating delicious food, or try some workshops and buy lovely jewelry pieces from the hippie chic stands. Then as usual, many cool and funny activities will be organized for families and children, such as: face painting or various sporting games to allow people of all ages to have fun. The entrance in the beautiful gardens of Atzarò is free and you will find there a multicultural variety of people, different ways of seeing life, families, children, young and old, natives and tourists, workers, bohemians, couples, groups of friends and so on, without private or reserved areas. The spring party is the best representation of the people who live and love this island, you will be surrounded by flowers, lights, colors and will breathe an amazing atmosphere throughout the day, as mentioned above there will be all kind of attractions: acrobats, activities for children, culinary workshops, holistic workshops, art exhibitions, buffet and food stands, DJs and live music will make this event something unique in this natural paradise that you can find at Agroturismo Atzaró.
This year I will go there and join some friends, since even if I'm a frequent visitor of Ibiza, I haven't had yet this experience and I do want to fill this gap finally! I'll tell you how it is after seeing it with my own eyes in order to share my experience with you all for sure.
Do you want to spend your holiday in Ibiza ?
Discover our accommodations in the Balearic Islands