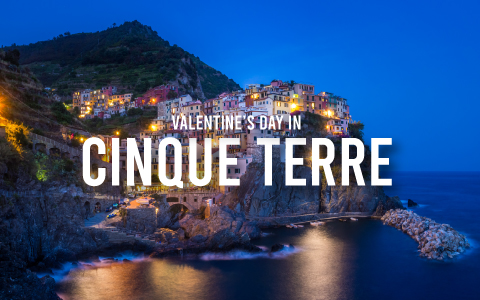 Valentine's Day in Cinque Terre, Italy
Italy is one of the most romantic countries in the world, and there are many places and cities full of charm. And today we would like to give you some tips for a perfect Valentine's Day in Cinque Terre, Liguria.
Some general information about Cinque Terre
This wonderful destination on the Italian Riviera offers a landscape of steep cliffs and five charming little fishing villages: Monterosso al Mare, Vernazza, Corniglia, Manarola and Riomaggiore.
Since the coastline is rocky, these villages are usually small and secluded. That's why they didn't change much over the centuries and it's almost impossible to reach them by car. Moreover, the surrounding area is so beautiful and special that it prompted the authorities to establish Cinque Terre National Park and UNESCO to declare it a World Heritage Site.
It is all these reasons together that make Cinque Terre the perfect backdrop to romantic moments!
Valentine's Day in Cinque Terre: what to do and romantic places to see:
Here are some ideas to make Valentine's Day in Cinque Terre special:
– Take a boat tour around Cinque Terre
Is there really anything more romantic than a boat to impress your SO?
A breathtaking boat trip around the five villages offers you the occasion to declare your love with the plus of a stunning view of the crystal-clear waters, colorful houses, and rocky cliffs.
– Take a hike along The Via dell'Amore (The Love Trail)
This path links Riomaggiore to Manarola, and it is the perfect choice to get lost in the breathtaking nature of Cinque Terre. Along the path, you will find inspiring views and some romantic sculptures offering Valentine's Day wishes to lovers.
– Visit the beautiful Punta Bonfiglio
Looking for a more intimate Valentine's Day spot? Then Punta Bonfiglio is your best bet! It's a rock located between Manarola and Riomaggiore which is scenograhic and easy to reach. All you need to do is walk a few minutes from Manarola and you will find yourself admiring the stunning view while whispering sweet words to your SO's ear.
– Explore the romantic Castle of Riomaggiore
Built in the 13th century, this castle used to be the home of one of Cinque Terre's most important families. Its terrace offers a breathtaking view of the five villages, and the perfect spot for taking pictures to alway remember your Valentine's Day is Cinque Terre.
– Take a romantic walk in Vernazza
Many say that this village is one of the most beautiful places in Cinque Terre. Indeed, it houses a fortress and plenty of colorful houses that hug each other along a small port.
– Enjoy a romantic dinner in Monterosso al Mare
Monterosso is the largest village, and you have to include it in your Valentine's Day in Cinque Terre for at least two reasons. The first is its beach. Even if winter temperatures do not allow for swimming, it is a place that lends itself well to declarations of love. The second is its restaurants overlooking the sea that offer excellent seafood dishes.
No matter what Valentine's Day activity you choose, Cinque Terre will be the perfect place to make some special memories.
Are you planning to visit Cinque Terre?
Discover our accommodations in Liguria