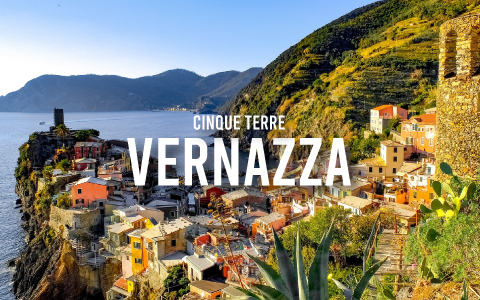 Vernazza, the lovely village of Cinque Terre
Vernazza is a picturesque village located on the northwest coast of Italy, specifically in the region of Liguria. It is part of the famous Cinque Terre, colorful fishing villages famous for their natural beauty and charm.
Discovering Cinque Terre
Cinque Terre, which means "Five Lands" in Italian, refers to a stunning coastal area located in the Liguria region of Italy. t comprises five picturesque fishing villages: Monterosso al Mare, Vernazza, Corniglia, Manarola, and Riomaggiore. These villages are nestled along rugged cliffs and show colorful houses, charming harbors, and breathtaking coastal scenery.
The Cinque Terre region is popular for its natural beauty. Indeed, it has been a UNESCO World Heritage site since 1997. Moreover, a network of hiking trails, train lines, and boats, connects the villages, making them a popular destination for outdoor enthusiasts.
Each of the Cinque Terre villages has its own unique character and attractions:
Monterosso al Mare is the largest and most accessible village. It boasts a long sandy beach and a lively atmosphere.
Corniglia is on a hilltop and does not have direct access to the sea but offers scenic views.
Manarola is shows postcard-perfect views of colorful houses cascading down to the sea.
Riomaggiore has a lively atmosphere thanks to the numerous shops, cafes, and restaurants.
Vernazza is a picturesque village with a beautiful harbor and a medieval church that adds to its allure.
Discovering Vernazza
Vernazza is situated in a small valley surrounded by steep cliffs, and its main attraction is its picturesque harbor. By the harbor area you find colorful fishing boats and plenty of cafes, restaurants, and shops, which create a  lively atmosphere.
One of the most notable landmarks in Vernazza is the Church of Santa Margherita d'Antiochia, a beautiful 14th-century church. Its bell tower offers panoramic views of the village and the surrounding coastline, making it a popular spot for visitors.
Although not as expansive as some other beaches in the region, Vernazza does offer a small sandy beach. It's a lovely spot to soak up the coastal ambiance and take a refreshing dip in the Ligurian Sea.

Perched on a cliff overlooking Vernazza is Doria Castle (Castello Doria). This historic fortress dates back to the 15th century and it is not accessible to the public. However, the hiking trail leading up to it offers stunning views of Vernazza and the sea. The castle ruins add a touch of medieval charm to the village's landscape.
Vernazza is also famous for its hiking trails that connect the Cinque Terre villages. The Sentiero Azzurro (Blue Trail) is a coastal path that connects all five villages, offering breathtaking views of the rugged coastline. The trail from Vernazza to Monterosso al Mare is particularly scenic. Whether you choose a leisurely stroll or a challenging hike, the panorama is sure to leave you in awe.
Vernazza and the Italian cuisine
Vernazza is surrounded by breathtaking natural beauty. The coastal views, dramatic cliffs, and azure waters create a captivating setting that is sure to leave a lasting impression.
Moreover, in this authentic Italian fishing village you can explore the delicious Ligurian cuisine. You can indulge in fresh seafood, traditional specialties like focaccia bread, trofie pasta, and the world-famous pesto sauce made from local basil and pine nuts. Exploring the village's restaurants and trattorias allows you to savor the authentic flavors of the region and enjoy a delightful culinary experience.
Are you planning to visit Vernazza?
Discover our accommodations in Cinque Terre