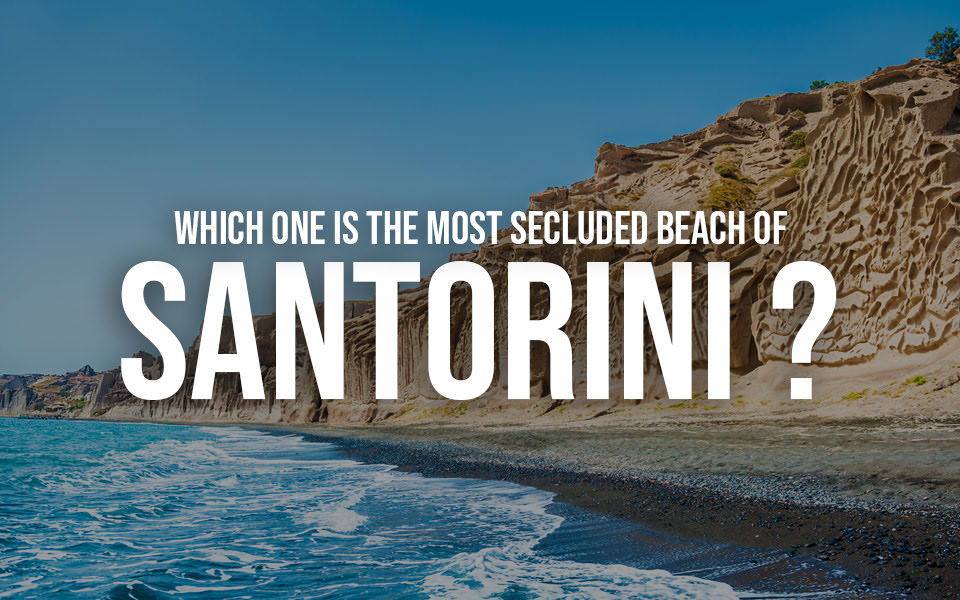 Which one is the most Secluded Beach of Santorini?
Santorini has plenty of gorgeous beaches, each of them with its own landscape and atmosphere. From rocky pristine shores to large sandy family-oriented beaches.
If you are looking for a holiday that is all about fancy locations and tourist attractions, well, you will be spoiled for choice.
But what if you are looking for something more relaxing and less crowded? Which one is the most secluded beach of Santorini?
The discovering is up to you, however I have 2 options: Eros Beach and Koloumbos Beach.
Eros Beach
Eros Beach in Santorini is one of those places that you should visit during your holiday.
It's a short beach surrounded by high white rocky cliffs. These cliffs are amazing, some of them look like melted wax.
While being on Eros Beach you can feel like you are on a different planet, and this feeling is reinforced by the fact that there's almost nobody there.
It is the perfect location to escape the touristic masses you surely will find in other spots.
At a certain point of Eros Beach there's a tiny but lovely beach club called Theros Wave Bar. This welcoming and elegant structure has a limited number of sun beds but it is perfect for spending a lovely day at the beach. You can sip a cocktail and some appetizer while watching the sea from the veranda or lay down on the bed and enjoy a massage. And when the sunset comes the music get louder and the party starts.
That's what I love about Eros beach! It's one of the most secluded beach of Santorini, but it is still fancy!
Eros Beach is at about 9 km south of Fira, not so far from the famous Vlychada beach.
To get there you need a car. Drive towards Vlychada Beach and follow the signs to Eros Beach or Theros Wave Bar. The road isn't paved.
Koloumbos Beach
Koloumbos Beach is said to be the most secluded beach of Santorini. It is located on the north east coast of the island, at about 12 km north east of Fira.
It is so isolated that I'm sure you won't meet a high number of visitors. However, many of them may be nudists!
As for Eros Beach, Koloumbos Beach has a rocky landscape. The beach is closed by a scenographic promontory that shows the stratifications of the different geological eras, and the black-grey sand is mixed with tiny pebbles and big stones.
Koloumbos Beach is the right place for those who are more interested in privacy and serenity than luxuries. In fact, there are no facilities on this beach and you have to take all you need with you, including food and water. The only way to get there is by car and then follow the path that leads you to the seaside.
Its name derives from the most active underwater crater of Santorini, which is located not far from the beach. The amazing thing is that the crater makes the water of Koloumbos Beach quite hot!
Vlychada Beach
Since I've mentioned it a couple of time, I think it's good to give you some infos about Vlychada Beach.
Vlychada beach is quiet and peaceful, with impressive volcanic cliffs and dark sand. For these reason is quite popular among tourists but way less crowded than more famous spots.
Moreover, you can get to Vlychada even by bus from Fira. By car from Fira it takes about 20 minutes.
So, which one is the most secluded beach of Santorini?
Do you want to spend your holiday in Santorini ?
Discover our accommodations in Santorini and other Greek islands