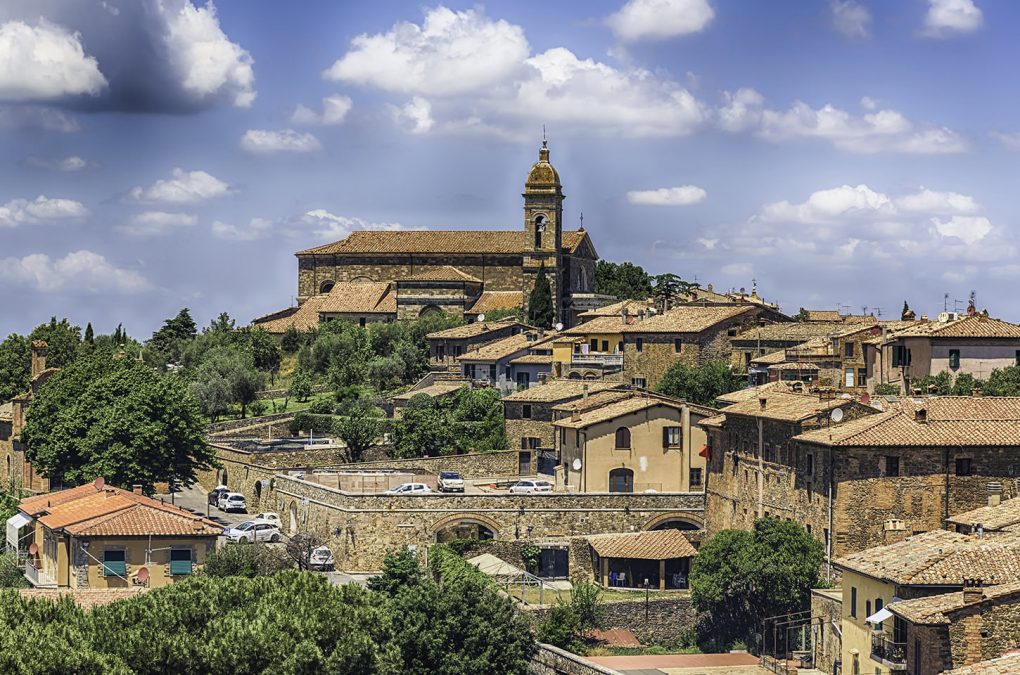 Montalcino Wine & Food Tour
The third stop of my personal food&wine tour is situated south of Siena and west of Pienza. It is Montalcino, a charming medieval village.
Montalcino isn't tiny as Pienza. It is surrounded by 4km of ancient walls, with 13 towers and 6 entrances. All around is the lovely campaign of Tuscany, with its hills and vineyards.
When I visited Montalcino I really enjoyed walking through the maze of small streets, peeking at the inside of the artisans shops and discovering its beautiful architecture.
I think that Piazza del Popolo, Palazzo dei Priori (the town hall building), the bare-looking Cathedral and the Astrusi Theater are the main attractions to visit.
But the most fascinating one is the Castle, for sure. It was built in 1361 and is still perfectly intact. It's amazing! And from the top of its towers you can admire a breath-taking 360 ° view on the Tuscan countryside.
There is another great panoramic point, a little outside Montalcino. It is the Abbey of Sant'Antimo, in the hamlet of Castelnuovo dell'Abate.
The Abbey was build during the 12th century but it was abandoned and only in 1979 a new community of French monks moved there.
The Abbey is worth a visit not only for the great panoramic view from there or its architectural beauty.
During the Mass it is possible to listen to the Gregorian chants and it is a really evocative experience that I recommend.
But let's talk back about the Castle for a moment.
I said that it is really well conserved and I think this is why they use it as a venue for concerts and events.
One of the most famous events is the Jazz&Wine Festival, which is held in July and mixes jazz music and great wine. In fact, Montalcino is the home of one of the most renowned Italian wines, Brunello di Montalcino.
Brunello di Montalcino
This wine is gorgeous! It must age for at least 5 years before being served, and for 2 years it must age exclusively in oak barrels. The result is a wine with a brilliant ruby red color, an intense aroma and a lasting and composite flavor.
The best thing for me is discovering all the hidden spots of Montalcino, then sit down in a wine-bar and sip a glass of Brunello. That's my idea of enjoying life!
With Montalcino and its wine Brunello, my short food & wine tour of Val D'Orcia comes to an end. But, of course, there's much more to visit in Tuscany.
Do you want to spend your holiday in italy ?
Discover our accommodations in Tuscany