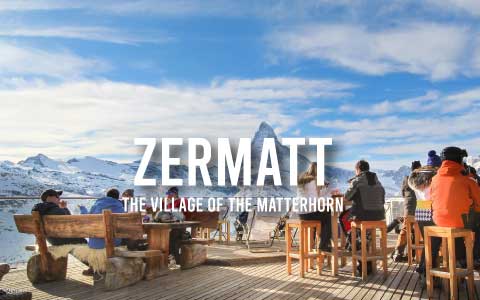 Zermatt, the village of the Matterhorn
Zermatt is a charming village in the Canton of Valais, Switzerland. And one of the most popular ski resorts in Europe.
Located at 1606 mt of altitude, most of the ski runs around Zermatt are covered in snow also in summer.
Furthermore, the surrounding landscape is overlooked by the Matterhorn, or Mount Cervino. Because of its pyramidal shape, this is one of the most-photographed mountain in the world.
The village of Zermatt
In Zermatt you can enjoy the traditional atmosphere of an Alpine village.
30 wooden buildings in the Walser architectural style, dating back to the 16th-18th centuries, are still standing at its historic center.  Monuments and fountains in memory of climbers and mountain guides are here and there.
The entire town is a pedestrian area. Moreover, residents pay attention to the impact of their activities on the ecosystem. That's why many accommodations use alternative sources of energy, such as solar energy.
From a village to a ski resort
The tourist fortune of Zermatt is due to its proximity to Matterhorn (4478 mt).
From 1857 onwards many attempted to climb this mountain, but the first ascent was completed by the British Edward Whymper only in 1865. It was both a success and a tragedy since 4 of the 7 climbers died from a broken rope.
However, from that moment Zermatt changed from a small village to a famous destination among climbers and, later, skiers.
Skiing in Zermatt
The Zermatt ski resort includes 360 kilometers of ski runs and snowboard slopes surrounded by towering peaks and equipped with excellent ski lifts.
In addition to skiing, in Zermatt there are facilities for ice sports, alternative sports, tobogganing, and trails for snowshoeing.
And once you are tired of all this physical activity, you can relax in one of the many spas and wellness centers in town.
Are you planning a holiday in Switzerland?
Discover our accommodations in Zermatt