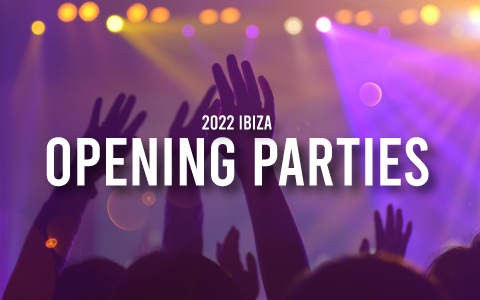 2022 Opening Parties in Ibiza
It's time for the opening parties in Ibiza!
The White Island is famous for its beautiful beaches and the hippy atmosphere but, above all, for its clubs where the best DJs in the world perform.
It doesn't matter if you love EDM or techno, it doesn't even matter if you can dance! The opening parties in Ibiza are an event that, at least once in a lifetime, you should experience. And most of all, after a two-year break at home from the pandemic, don't you want to have some fun?
OPENING PARTIES IN IBIZA 2022
Here are a few details about some of the many opening parties in Ibiza.
Opening Parties – April
APRIL 29 – PACHA AND EDEN
The first opening parties will be on April 29, at Pacha and Eden.
The former is one of the most world-famous clubbing brands and a club loved by all DJs. The second hosts the best House & Trance music events.
APRIL 30 – USHUAÏA IBIZA AND HÏ IBIZA
The fun season in Ibiza will officially begin with the joint event 'Better together' organized by Ushuaïa Ibiza and Hï Ibiza. The program includes the participation of DJs and artists such as Adam Beyer, Black Coffee, Charlotte de Witte, Damian Lazarus, Kölsch, Layla Benitez, The Martinez Brothers and much more.
It will start at Ushuaïa Ibiza from 12 PM to 12 AM and then it will end at Hi Ibiza from 11 PM.
APRIL 30 – IBIZA
Formerly known as Space, this new club is located in Playa D'en Bossa and attracts numerous VIPs. Apparently it is famous for having some noteworthy toilets! We're expect great parties for the season.
Opening Parties – May
MAY 1 – ES PARADIS
Finally the reopening of one of the most popular clubs in Ibiza, where exaggerated parties are organized every year. As the name suggests, this club is a party lover's paradise. Why? Because of the beautiful garden, the design furnishings, the pyramidal roof and its historicity – it has been open since the 1970s. And, most of all, for incredible parties like Fiesta Del Agua, the water party.
MAY 2 – DC-10
Have you ever been to a club located at the end of an airport runway? If your answer is no, well, you have to go to DC-10! Especially if you like underground electronic music.
MAY 6 – OH PLAYA / OH BEACH
Oh Playa is a luxury beachfront resort, popular for poolside parties and aerial shows. This year it bets double with a soft opening party on April 22 and a grand opening on May 6.
MAY 21 – AMNESIA
Another club choosing the double opening party is Amnesia, with the Warm-Up Pyramid Party on April 29 and the official opening on May 21. If you've never been to this club, you should! It is one of the most representative clubs in Ibiza, home to the Cocoon party. Its main feature? One of the dance floor is dominated by a glass roof from which you can admire the sunrise while dancing.
For info on tickets you can visit the Ibiza Rocks website from which we have taken some of the information in this article.
Are you planning to join some opening parties?
Discover our villas in Ibiza!