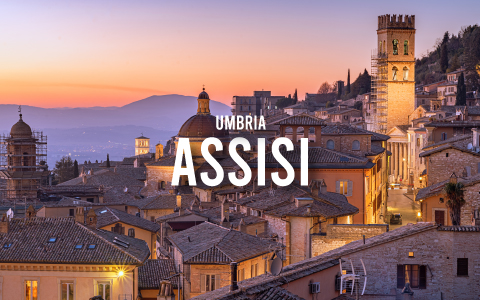 Assisi: A Timeless Gem in the Heart of Umbria
The picturesque Umbria region, in central Italy, is home to Assisi, a charming and timeless town that beckons travelers from all over the world. With its rich history, breathtaking landscapes, and spiritual significance, Assisi is a place that captivates the soul and invites you to explore its hidden treasures. So, if you're considering a visit to Umbria, here's why Assisi should be at the top of your list.
Main attractions in Assisi
Assisi's history dates back to ancient times, with traces of Etruscan and Roman settlements still visible today. However, its most renowned for being the birthplace of Saint Francis, one of the most beloved figures in Christian history.
As you walk through the town's narrow, cobblestone streets, you'll encounter a sense of timelessness. The medieval architecture, well-preserved buildings, and ancient walls transport you back in time, making Assisi feel like a living museum.
Here are some of the main attractions to visit in town:
Basilica of San Francesco (Saint Francis Basilica)
This is one of the most important religious sites in Italy and a UNESCO World Heritage Site. It is dedicated to Saint Francis of Assisi, the patron saint of animals and the environment. The basilica consists of two main churches, the Upper Basilica (Basilica Superiore) and the Lower Basilica (Basilica Inferiore), both adorned with stunning frescoes.

Basilica of Santa Chiara
Dedicated to Saint Clare, a follower of Saint Francis, this basilica is another significant religious site in Assisi. It houses the remains of Saint Clare and features beautiful artwork.
Piazza del Comune
This central square is the heart of Assisi and is surrounded by historic buildings, cafes, and shops. It's a great place for people-watching and soaking in the atmosphere.

Rocca Maggiore
This medieval fortress offers panoramic views of Assisi and the surrounding countryside. It's a great place to explore and provides a historical perspective of the town.

Temple of Minerva
This Roman temple dates back to the 1st century BC and is one of the few remaining ancient Roman structures in Assisi. It was converted into a Christian church in the 16th century.

Roman Forum
The remnants of the ancient Roman city of Asisium can be found here. It's an archaeological site where you can see the remains of Roman structures.
Eremo delle Carceri
Located in the woods above Assisi, this is a peaceful retreat where Saint Francis and his followers would retreat for contemplation and prayer. It offers a serene natural environment.
Bosco di San Francesco (Wood of Saint Francis)
This peaceful forested area is where Saint Francis and his companions would often meditate and pray. It's a serene place for contemplation.

More Than A Spiritual Journey
Assisi is a place of profound spirituality. Pilgrims and travelers seeking a deeper connection with their faith will find solace in Assisi's sacred sites. The calming atmosphere of these holy places invites quiet reflection and contemplation.
If you plan your visit during one of the town's religious festivals, such as the Feast of Saint Francis in October, you'll witness Assisi come alive with colorful processions, music, and celebrations that honor its patron saint.
But Assisi is not only a center of religious devotion. It is also a great destination for nature lovers and food enthusiasts.
Nature, food and wine
Umbria is often called the "Green Heart of Italy" because it is home to extensive forests and woodlands and several natural reserves and regional parks. The combination of rolling hills, vineyards, and medieval towns creates a visually stunning landscape but compared to other regions like Tuscany, Umbria has retained a more authentic, rural character.
Umbria is also known for its rustic and flavorful cuisine. Assisi is home to charming trattorias and osterias that serve up traditional Umbrian dishes with a modern twist. Don't miss the chance to savor local specialties such as truffle-infused pasta, porchetta (slow-roasted pork), and hearty soups like ribollita.
Wine lovers will also appreciate the local vineyards producing excellent wines, including the famous Sagrantino di Montefalco. You can embark on wine tours and tastings in the surrounding countryside, pairing these exquisite wines with delicious regional cheeses and charcuterie.
Umbria, a great destination for an autumn trip
Umbria combines history, spirituality, and beautiful views into a harmonious whole.
Natural marvel like the Marmore Falls and towns such as Assisi, Orvieto, Spoleto will give you many fond memories, especially if you visit Umbria during Autumn, when the magic of foliage tints the entire countryside in wonderful shades of red.
Are you planning to visit Assisi?
Discover our accommodations in Umbria