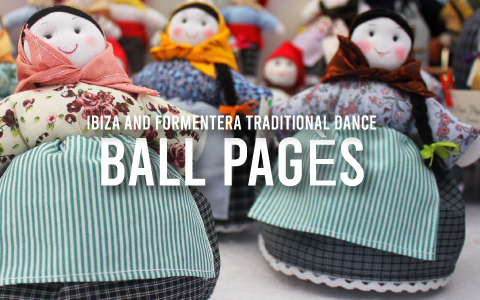 Between a day on the beach and a boat trip, why not explore the traditions of Ibiza and Formentera? Have you ever heard about Ball Pagès?
WHAT IS BALL PAGÈS?
Ball Pagès is the name of the traditional dance of the two Balearic islands.
The origin of this dance is uncertain. However, it is definitely linked to the agricultural past of the islands, when the life of people followed the rhythms of nature. Not for nothing, Ball Pagès means Peasant's Dance.
There is not a single type of Ball Pages. Each village of Ibiza and Formentera has its own version, with its own steps, its own music and its own costumes. Despite this, there are some common elements.
THE MOVEMENTS OF BALL PAGÈS
Ball Pagès always involves a man and a woman (usually more than one couple).
The man jumps on the spot while playing big castanets. On the other hand, the woman moves sinuously around the man and almost seems to float in the air. Her delicate movements are said to represent the phases of the moon. Considering that Tanit, the goddess of the moon, was the goddess of Ibiza, these movements are evidence of the peasant origin of the dance.
THE MUSIC
The dances are always accompanied by the music of traditional instruments. The most frequent are the drum, the flute, the castanets and the espasí. The latter is a bizarre percussion instrument that looks like a sword.
THE COSTUMES
The dancers are dressed in traditional costume.
Men wear white shirts and trousers, a vest with filigree bells and a barretina, a red or purple wool cap in the shape of a bag. They also wear a colored belt and espadrilles shoes.
Women wear the typical peasant dress with veil and shawl. In addition, they wear numerous jewels. Among these, the most fascinating is the empreseada, a wide necklace with filigree decorations.
WHERE TO SEE THE TRADITIONAL DANCE
As this is a traditional dance, you can easily see ball pages during folk festivals. Another occasion are weddings.
In any case, some folk groups perform regularly in the main towns, especially in summer. For example, in Ibiza, you can see them at the Sant Pere fortress, in Dal Vila, every Friday, or every Thursday in Sant Miquel.
Are you planning to visit Ibiza?
Discover our accommodations on the island