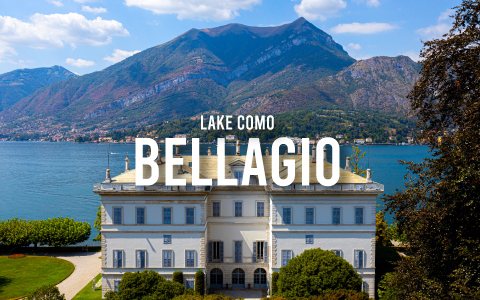 Let's discover Bellagio, the Pearl of Lake Como
Bellagio is a picturesque town on the southeastern shore of Lake Como, in Italy. In town, you will find a romantic atmosphere that is not lacking in glamour. Small streets, stores and restaurants, and perfect nooks and crannies for taking Instagram-worthy photographs are everywhere. Finally, you will enjoy jaw-dropping lake views.
Something about Lake Como
Lake Como is one of the most popular tourist destinations in Italy, drawing thousands of visitors each year. From picturesque landscapes to centuries-old villas, the Lake has something for everyone. The surrounding mountains and hills provide stunning panoramas, while the charming villages and towns onthe shores of the lake give visitors with a glimpse into traditional Italian life. Some of them are Varenna, Tremezzo, Laglio, Menaggio, and, of course, Bellagio, which are all popular tourist spots. These towns are filled with restaurants, cafes, and bars that provide delicious local food and drinks. They also feature some of the best shopping in Italy, with many boutique stores selling luxury products such as jewelry and fashion items. An if you are into outdoors,  on Lake Como there are lots of activities to do, from boat rides to cycling to hiking.
Why Bellagio is the Pearl of Lake Como
Bellagio is often referred to as the 'Pearl of Lake Como', and it's easy to see why. The town is situated on a peninsula in Lake Como, offering stunning views from every angle. It has some spectacular villas dotted around its streets, including Villa Serbelloni and Villa Melzi, along with some of the best Lake views in the region.
The town also has plenty to offer by way of activities and attractions, from art galleries and museums to luxury shopping and restaurants. Visitors can explore the charming cobblestone streets or take a scenic boat ride along the lake to appreciate its beauty.
What to see during a day trip in Bellagio
The historic center of Bellagio
Borgo, Bellagio's historic center, is a maze of narrow, stepped streets and arcades. Walking around, one breathes in a placid and elegant atmosphere that finds its greatest expression in Piazza Mazzini, Bellagio's main square, where the boats dock. Historic luxury hotels, renowned restaurants, and glittering boutiques provide the backdrop. Another must-see spot is Salita Serbelloni, a street lined with quaint little shops and certainly one of Borgo's most photographed spots.
Villa Melzi and Villa Serbelloni
Villa Melzi is a historical villa built between 1808 and 1810 for Francesco Melzi d'Eril, the viceroy of Napoleon in Italy. Today it is open to the public as a museum and gardens; visitors to Villa Melzi will be able to explore its architectural beauty as well as take a stroll through its majestic gardens.
The villa's gardens follow the lakeshore and house, in addition to the main building, a chapel, a greenhouse of orange trees, and a wonderful lily pond with a small bridge surrounded by maple trees that in autumn put on a show with foliage. Not far away is a Moorish-style kiosk from which visitors can admire an enchanting view of Bellagio and, opposite, the monument to Dante (the Divine Comedy's author) and his beloved Beatrice. Finally, very beautiful is the avenue of plane trees.
Villa Serbelloni is famous for its gardens too. These are located on the promontory separating the two branches of Lake Como. The Villa is not open to the public and it is home to the Rockefeller Foundation. Every year it hosts artists from around the world in the cottages scattered throughout the park. The park is home to about 18 km of avenues and pathways. Walking between local and exotic trees and plants, visitors will find terraces from which to admire wonderful views.
Punta Spartivento
When it comes to viewpoints points the best is certainly Punta Spartivento. It is the extreme point of land at which Lake Como divides into its three branches. Providing a backdrop to the beauty of the lake are the Larian mountains.
Certainly in Bellagio there are many other things worth visiting: churches, museums, historic buildings, scenic spots. We have pointed out the main ones. It is up to you to discover the others!
Do you want to visit Bellagio?
Discover our luxury villas and apartments on Lake Como